I have not heard of Nyonya Colors, until it opened at The Gardens, near the connecting bridge from Gardens to Mid Valley. But of course when one, googles Nyonya Colors, the results come back with a lot of Nyonya Colors 1 Utama hits, and links to very prominent floggers too.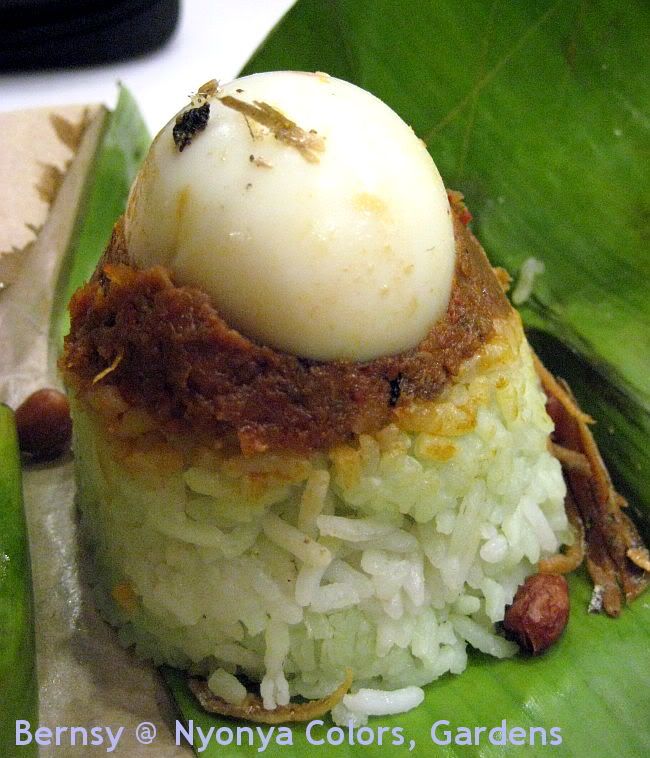 It was just one of those evenings, you walk around Mid Valley, trying to decide what to eat. Nyonya Colors, as I saw it, gave me the impression of just another Kopitiam in an up market area like The Gardens. Anyways, we walked in one evening, and ordered this Pandan Nasi Lemak bungkus. I immediately loved the taste of this little packet of Pandan Nasi Lemak. The rice is aromatic, and doesn't stick to each other. Each packet is neatly wrapped in banana leaf and waxed paper, is served with ikan bilis, fried nuts and boiled egg. Their sambal was very nice, but believe me, they give you a different sambal when you order the Big Plate Nasi Lemak.


This yellow curry noodles, was what I really liked. It came with yellow curry, a little bit of sambal by the side, and the usual curry noodles ingredients, chicken, tofu pok, taugeh, etc. This one, I really recommend, very tasty bowl.


We also ordered Chendol, from Nyonya Colors. I believe this is how chendol is eaten in Melaka. Shaved ice, chendol, two tablespoons of gula melaka and two scoops of santan milk.

Gardens, Level LG Food court area.

also read:

Masak Masak ( 1U)
KLppl KLFood ( 1U)
Kampungboycitygal ( 1U)