Sometimes the really nice stuff is hard to find, because they are not always as visible, or appealing for the general public to just walk in and say try their food. This place in OUG, is actually situated at one of those food stalls behind, OUG Parkson ( formerlly known as Yaohan).
The stall just looked like just any stall, but as Ben led us through the back alleys of OUG Parkson coming through the main road, that revealed this hawker center in OUG, it didn't look very appealing. But since Ben brought us here, it couldn't be that bad right.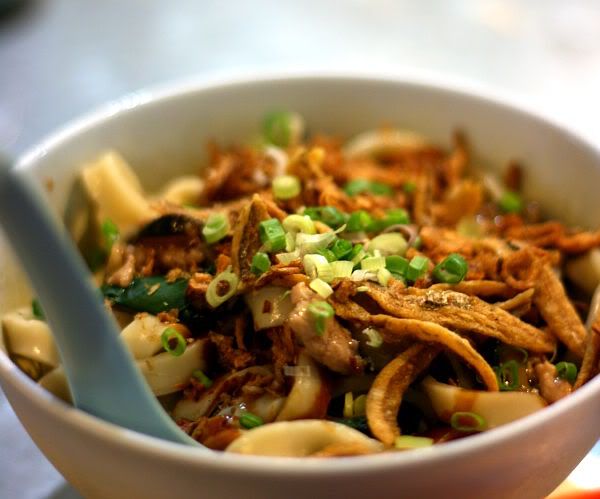 Anyways, the wait would have been quite long if it had not been for Ben sharing with us his interesting experiences, and Sayang catching up with him and all. Both Ben and I went for the dry pan mee, which was recommend. Make no mistake, it is just remotely similar to the dry chilli pan mee, from Kin Kin. But I have to say it was quite nice.

Sayang wanted to be different and went for the standard pan mee soup. I tasted abit of her soup and found the soup very tasty and rich in flavor. That kind of taste you find in real soup which has been boiled for hours.
When the biill came, I think it was just about RM4 per bowl. The price made it even better, and one of those very rare occasions I'd say its Pang Leng Cheng ( Cheap !, Nice ! and Good!)