Last Sunday, Sayang asked me, what would you like to go for your birthday, I said anything also can. You just don't expect this kind of answer from someone who blogs about food ! But, I really have no preference when it comes to food, I literally eat anything under the sun. I am that obedient son who eats anything that is put on the table. So Sayang consulted her friend whom she trusts to have taste, and made the necessary arrangements.

It wasn't much of a secret, although the restaurant is called Rahsia. Being the birthday boy doesn't mean you get chauffeur driven to the restaurant too, so at some point of the day she told me, we are going to 13, Jalan Damai. I googled it and found their website. The design looks delicious too, with much thought put into it.. nice website. Got awards for a few years in a row some more, very impressive.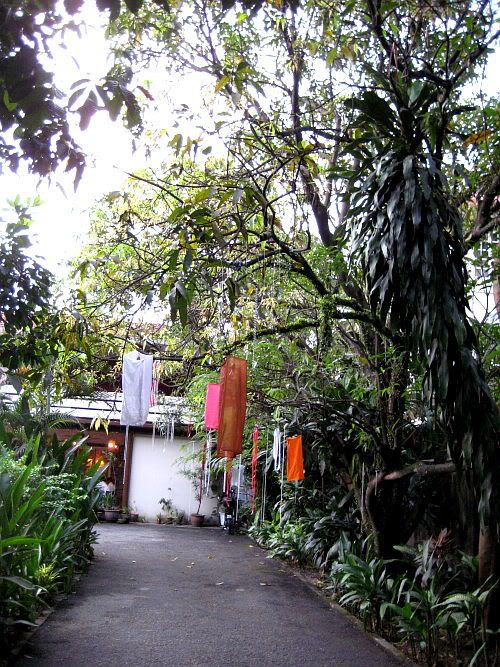 When we arrived after a long journey ( we were stuck on Tun Razak for like 40 minutes, with the jam starting from within the SMART tunnel), again as the saying goes, Tunnel Smart, Gamen nOT, me less smarter coz I paid TOLL, to get stuck in a massive jam....


To start off, we must first have drinks. We were ecstatic when we saw, FREE Cosmo drink ( yup everyone gets one free Cosmo each), alcoholic drink. Wah this place so nice give free cocktail all. They had a list of cocktails on their real menu, but not put up their website. Sayang ordered an ASMARA (RM 15) top of her Cosmo... and I ordered a house pouring Red Wine ( RM 15 only).
They also served plain water... wah another plus point.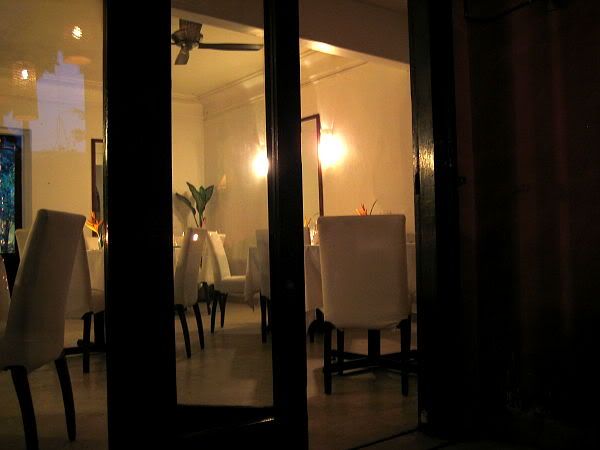 While waiting for our food, we took a little tour of the place. Really neat, nice old bungalow if you ask me. Since it was evening, and we were sat in the backyard of this really ncie old bungalow, mosquito coils were lit up to keep those mozzies out. But you can always seat inside, but the backyard had a better ambience to it, if you ask me...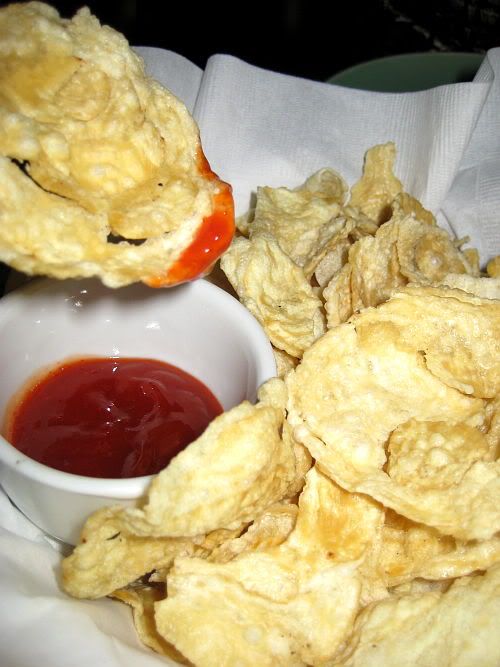 We had an appetizer and a salad before the main arrived. Malinjo Crackers was an appetizer (RM5 only). Didn't like it a single bit, especially the normal chilli sauce dip. Would have tasted a lot better if it was sweet soy sauce, with chilli and onions, and a squeeze of lime. But this was their secret recipe ma.. so nothing to say.. hahaha.... The thai duck salad though was superb, and out of this world. The usual salad leaves were given and a generous amount of deep fried duck meat with skin ( crispy wan) was served.... Definitely recommend this to anyone.



We ordered a lamb shank to share ( one main only ). 3 pieces for RM55. Over priced and tasted so so, and ok lah. It wasn't superb, but to point out, the meat was tender, juicy and falling off the bone. Some people will really love this dish. My points: so so la, ok lah, bolehlah.


Tiru misu - this is Rahsia's version of a tiramisu. It aint a tiramisu, just lots of cream with wafer biscuits dipped in rum, dribbled with chocolate fudge. Sayang had a chocolate brownie, which we thought was below average.


After dinner we basically fooled around with the camera and ourselves. You know you are growing old when the round wine glass can't hide the roundness of your face anymore. It was a great dinner no doubt, but that was just the beginning of our night really....

I had a few seeds of durian after dinner, which then I threw up 3 times the whole entire night. I suspected that it could be the cheap liquor they gave us. Or it could be the wine. So please stay away from their cheap drinks should anyone wanna go there.

Also read:

Overly patronizing reviews featured on their website
Their Website