q: What do you call a happy burger ?
a: Bergembira !!



For some reason, that day, we went driving around the Subang area, before lunch to do something. Hearing that Wendy's is back and has got one branch in Sunway Pyramid, I was just waiting for someone to ask, where do you want to eat lunch ? I quickly suggested, why don't we go to Sunway Pyramid and find something to eat. lol!!!

When we reach Wendy's it was already packed, and we quickly got ourselves a place to sit, in this really cramped restaurant. Opposite it was McD's which looked rather empty. I can only vaguely remember Wendy's in the older days, when it was in Sg Wang.


We ordered three types of burger, shrimp, fish and double cheese burgers. All sets came with a soft drink and fries. Their fries were thicker than those McD's fries, which I thought were quite nice. Something different, but McD's fries are generally tastier and crispier (according to me la).



The shrimp and the fish burger look similar, but according to Sayang, she thinks their shrimp and fish burgers tasted so much better than those you find at BK or McDs. As for me, I don't usually take chicken burgers, or fish burgers, because nothing beats the taste of real nice juicy Beef burgers.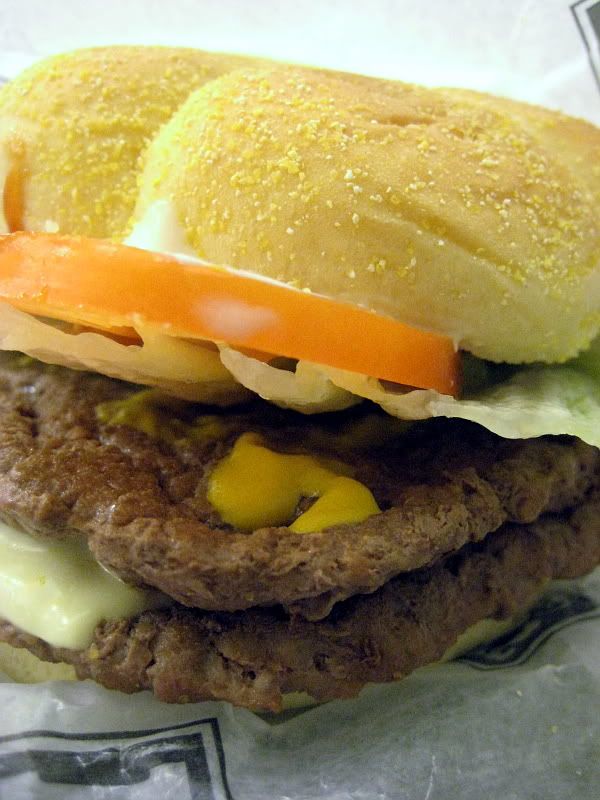 Actually I don't quite remember what this was, a double patty cheese burger or something lidat. I found the burgers to be quite nice, although I will also say the same about McDonald's, Burger King and even Carl's Junior.

Although Wendy's made a come back after many years absence in the Malaysian market, I find it a bit over priced. I have to agree with what some people think though that some of the stuff they give back to us are of fresher and nicer stuff, as compared with the cheaper burger places.

Also read

Carl's Junior aint that nice
Masak-masak
Ljun9