This is perhaps our third visit to this restaurant, but I had only one other post on this place. I remembered the last I came, they just opened up, and apparently they brought these famous cooks from Penang and posted them here in the Gardens ( reconfirmed with one of the waiters).
This time around, Sayang and I met up for lunch, and decided to drop by Gurney Drive again. Since Sayang don't get to go to Penang every other month like me ;) so I suggested we go eat some real Penang food @ The Gardens. Something on their menu changed this time around... they reduced their prices....


We usually do not hear of restaurants reducing their prices, this is really a first for me. So we ordered anyways. Sayang got her Char Koay Teow with less chili, hence the color abit more brownish than reddish. Of course I preferred to have it extra spicy but this was Sayang's CKT.... hehehe.. she enjoyed it no doubt.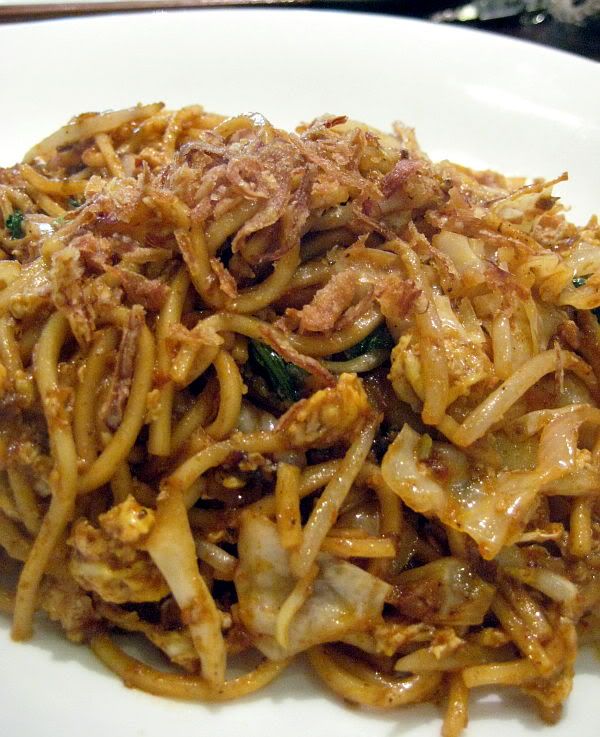 Mine was a mee goreng mamak. I've had this before, in my previous visit, so I took the same mee goreng again.. It was really nice, not sure why, but the local mee goreng mamaks are either too dark, too salty or two wet. Theirs were fried to perfection.
Popiah was just so so, but really no complains.

Surprisingly, as I do my research on other food reviews about this place, I found that others did not enjoy the food at all. Some will come up to a rating of at most, average. This must be whats going on, with this restaurant, which is why their prices dropped big time....

Also Read:

Bernsy's First Visit
PinkPainter
Yowazzup
Mumzie

It's located on the Second Floor of The Gardens, same floor as Flying chillies, Fong Lye and Sushi Zanmai.