It was supposed to be another lazy Saturday morning, but I kept reading about this aMBP's Gathering, I was very tempted to swing by and see how a blogger's gathering was like. So I woke up early, sent Sayang to work and I was amongst one of the first few guys to arrive.



I quickly registered for the event, and saw Danny Foo already sitting down in one corner already busy with his notebook, whilst James was fondling around with Danny's Iphone. Should it come to our shores, I have a funny feeling we will call it, Ifon. wakakakaa., just kidding...


Not long after, Platinum Girl, and Albert were both registering their blogs at the AMBP site. Looking on was Redzuan. It didn't take long before the aMBP guys from the Star, started giving out coffee vouchers , complimentary from today's sponsor, Starbucks.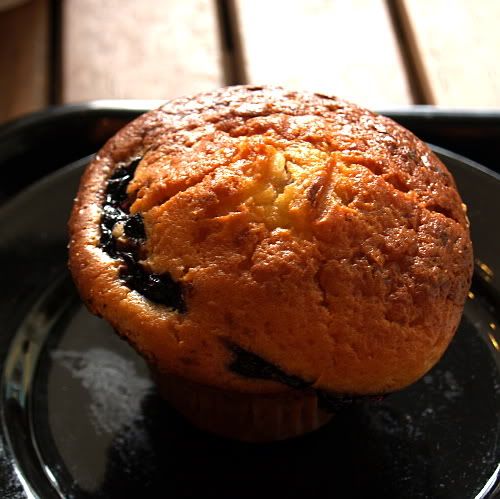 Since I was already feeling a little bit hungry, I ordered a Blueberry Cheese Muffin to accompany my Caramel Machiato. The muffin didn't really taste very nice to be honest. It was just a piece of muffin, with a few blueberrys and no hint of cheese whatsoever. Its RM5.60 not well spent here.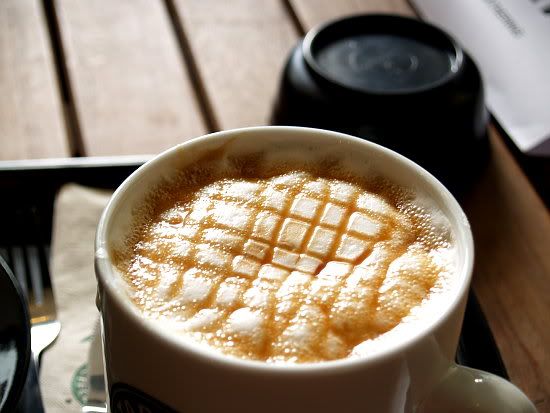 Their coffee on the other hand was superb. A Venti sized coffee meant 3 shots of espresso, topped up with Steamed milk, a little foam and dribbled with caramel. Gees, the coffee, needless to say was very satisfying.....


It didn't take long for ice to break and everyone's quick to their ownselves to each other. Albert here of course seen checking a Nikon D300, really a nice piece of equipment. I noticed something in this gathering though, we have more Sony Alpha's in here, as compared to the more common Nikon & Canons.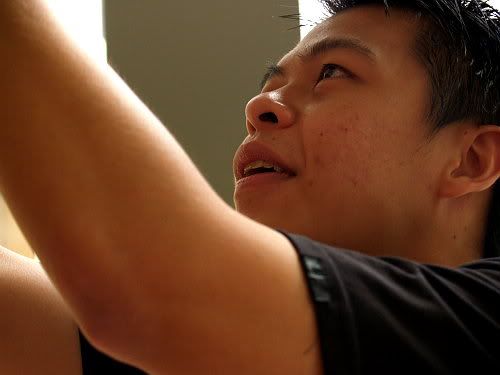 Andy here seen taking lots of pics for his blog.

Kiro and Lun, was spotted coming in late. I couldn't resist, because Lun was so cute. Not only that, he veli pandai posing for the camera too.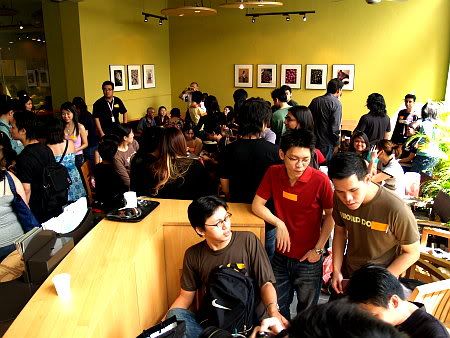 This is the scene before 12pm. Everyone was here, oh well not everyone, but almost. Amongst some of the people I actually recognize for being famous either by their blogs or I have seen them on TV kinda fame was Suanie, Smashpop, Raj The guy from Cornetto Love Game Show, yvonnefong, erm. I guess thats it. kekeke


The special moment for was meeting PeterTan. Really nice guy, down to earth, and according to his blog he is "an Advocate for an inclusive and accessible Malaysia." To me he really is the cyber Anthony Thanayasan (oops hope I spelt Anthony's name right)....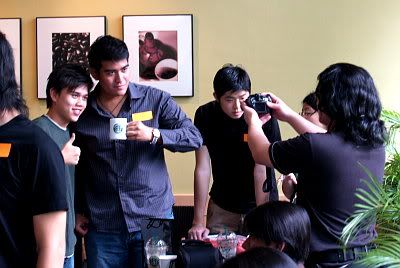 Lots of cam whoring, lots of cameras clicking but this group photo is really priceless.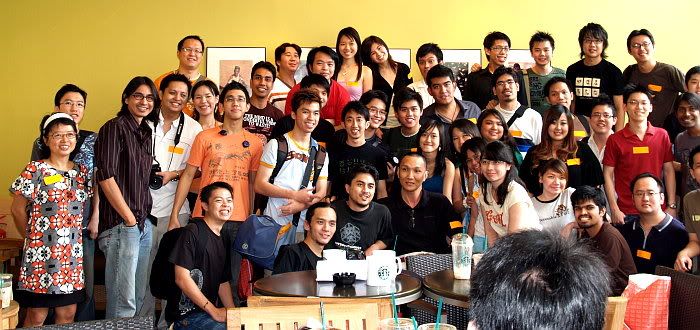 Of course, many thanks to AMBP aka TheStar for organising this gathering, and Starbucks for sponsoring the gathering.