It was one Sunday when we decided, hey why don't we go to Champs at Centerpoint. Want to try their ribs. Actually, what really caught our attention was that when we were at Bernard's which happens to one level below Champs, you can see a big banner that says, The much talked about Ribs in town....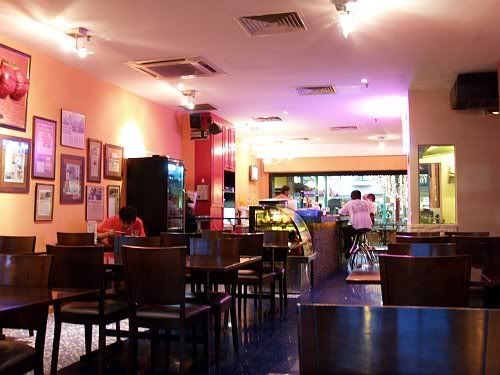 I really haven't been to Champs for food, so this is really the first time. Some time back, we used to come here for a beer or two, but thats all. Nevertheless, when you walk into this outlet, you should be able to find many framed newspaper writeups about their food, and about the restaurant. Whats interesting is that, this restaurant is actually named after his St Bernard, call Champ...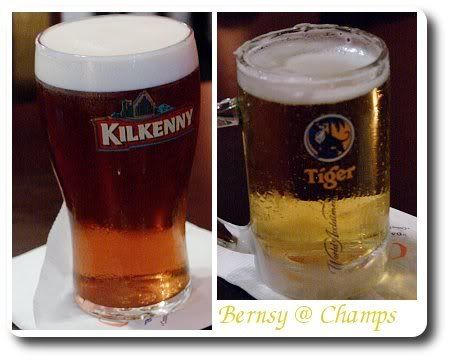 Our only focus today was to try their ribs. Two persons, two mugs of beer and one rib. Sayang is doing her Kilkenny, while I just ordered my Tiger. Their tiger mugs are frosted leh, a little gimmick there, but I do not believe it has made the beer any better....



The ribs really did take a while to cook. This fella here cooking our ribs, as we were the only ones here that day. Still early la, we arrived at about 6 something, but by 7 people began to pour in , and they come in families who all seem to be regulars. So here's a hint: if you are in a hurry, don't order them ribs. Or if you are hungry, perhaps you should consider ordering some starters.


After 25 minutes, the cook is making some finishing touches before it was presented out.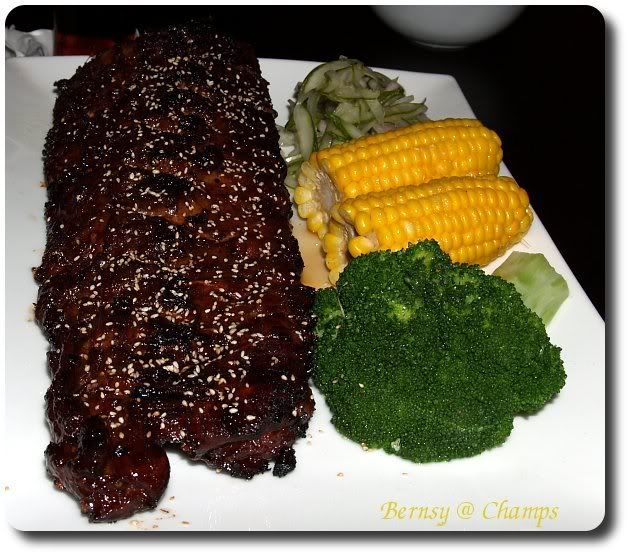 So this is it, their PORK RIBS. Served with broccoli, one whole corn and some pickled vegetables. To tell you the truth, its a huge serving of ribs, and my Sayang was stuffed after eating 3 and a half pieces of the ribs. I personally found it quite tasteful, succulent and rather tender.

For the sake of comparing right, their ribs really kick ass if you want to compare with Cagayan's ribs (Centerpoint new wing), but we still prefer Tony Roma's Ribs. Tony Roma's still serve the better ribs. I am not sure what to say about Checker's ribs, but they are abit different.


My other rib posts:
Cagayan
Checkers
Tony Roma's

Also read what other bloggers say about Champ's
KampungBoyCityGal
FOODPOI



Champ's Bistro

Lot F10, 1st Floor, Centrepoint,
Lebuh Bandar Utama, Bandar Utama,
47800 Petaling Jaya, Selangor.
03-7722 5800
Open from 10:00am to 12:00am daily