I am finally going to post a review of this place. Sayang and I , have been patronising this place very often. Sometimes, as often as twice a week, but generally you can say, that this is the restaurant we frequent, meaning regulars la.

My first attempt at taking photos of food here, was about a year ago. I was using a VGA cam on my Nokia ("flashbag" of my old pics), results, the WB was totally out. Then I upgraded into a 3MP Pentax Optio S and then a Ricoh and the results werent that good also, until I landed this "not so new" Olympus.


The pictures finally turned out quite decent , under those lighting conditions.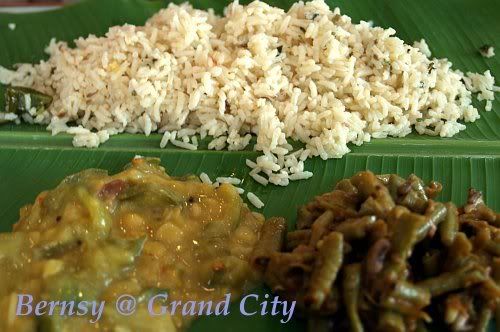 Anyway, this is SC's favorite restaurant whenever it comes to southern Indian food. And I can see why. Her usual fare at this place will be a banana leaf set, which consists of a generous helping of briyani (bottomless, literally speaking of course), and an unlimited supply of vegetables, curries, and sambars. Even though the unlimited does not apply to us, because she usually takes only a small serving.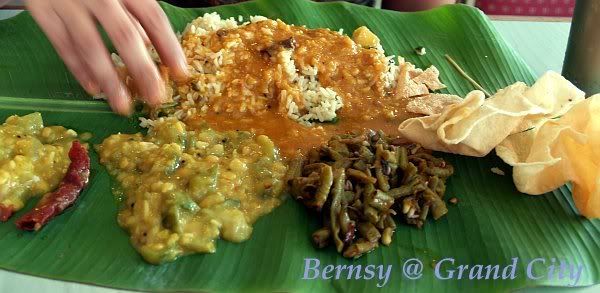 Their briyani comes in a light color, which I personally also like. This is because they do not dump in loads of ghee which to some people, the aroma is a wee bit pungent. Its a vegetarian briyani hence you don't see chunks of chicken or beef in the rice. To add to that, rasam, payasam and thairu's are given free here, unlike at Raju's.


On that day I opted to eat a piece of capati, and asked for extra vegetables. I would either order capati or a Onion Rava Masala Thosai or just a Rava Thosai with potatoes... hehehe.. their thosai is done just nice, or should I say, fresh. Because their thosais are usually not very sourish... and can be done crispy if requested. Just by doing a little check, you will see that their kitchen is separated from the dining area by a see thru glass kinda counter. That is indeed very encouraging for any restaurant.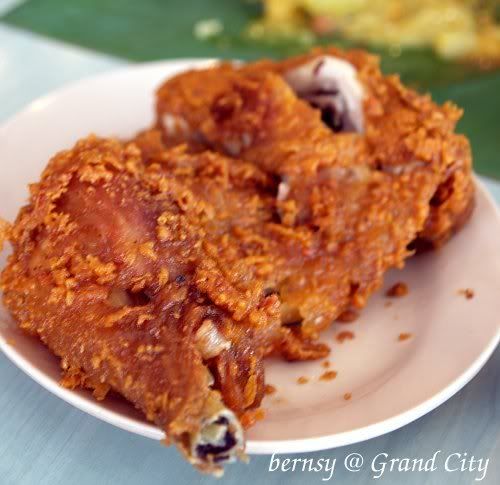 Their Ayam goreng, although not freshly fried, and vaporing hot like Raju's, you can tell a lot of thought has been put into their marinade. Although I must say, it is unusual that we order a fried chicken when we come over here. We normally order other types of lauk like, chicken varuval, mutton curry, and/or mutton masala.


Should you come at about 3pm(especially on Sat and Sun) , you will be able to try their vaporing hot curry puffs, and vadirs. Make no mistake, the puffs and vadirs are little cheap crunchy snacks which you can enjoy while enjoying a cup of Masala Tea. And they charge you only about 0.80 sen each. A freshly fried vadir can be very satisfying, if you know what I mean.

This is SC's favourite place for Indian Food, and let's recap why. The food is good, and reasonably priced. For me, the air conditioning is a plus point, as I do not have sweat so much when eating my curries or when I munch on those dried chillies. The waiters over there are very attentive although service can be a bit sloggish during peak hours, ie tea time Sundays. It is also a superb place to source out various Indian Desserts, authentic Mixed Nuts (my mom in law calls them Madras Mix), and yes, they also serve Idly (, as well as fresh and crunchy puffed up balls.

Price wise, I suspect the food is priced a little bit higher than places like Sri Paandi (which is next to Grand City at Sek11. Although, I can't confirm with you for sure, that they are cheaper than Raju/Kanna outlets, I can fairly say I prefer GrandCity more.


Also Read:

KampungBoyCityGal's Visit

My other banana leaf reviews:
Brickfields - Sri Kortumalai
Gasing - Raju's