This Bernard's Pub & Cafe, has indeed been around for ages, and I mean, its been around for more than 10 years. I came to know about this place after Bernard took over this outlet from the then very hot Java ( some kinda place we used to go clubbing, then). It was then made into a pub and cafe, laid back , with their TV screens showing mostly sports programs, and at times, Music Videos. We used to come by on weekends, to have our dinner, and watch football with friends, on special occasions. They used to have the biggest screen in Bandar Utama, before the crowd went to Phileo Damansara.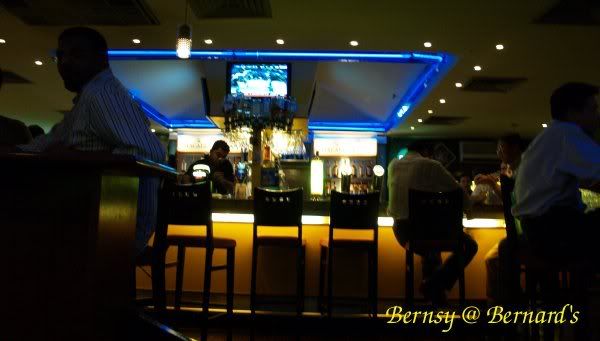 Today Bernard's is still the same laid back pub, where Happy Hours is for regulars to gather and chit chat. For me, its a good place to have nice chicken rice, and superbly nice nasi lemak.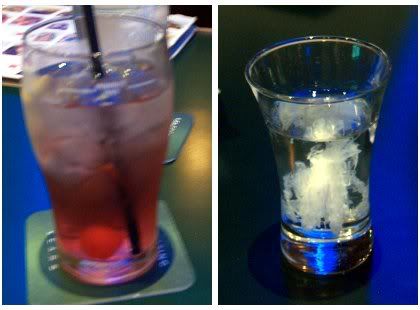 As you flip through their menu, which is quite mature, you will find that not only do they serve you foreign beers on Tap, hard liquor by the bottles, they also have a range of cocktails they serve, and categorised in medium and strong...... What caught our eyes on the menu were, Pussy Juice and Sperm Shot.

I have no idea why the Pussy Juice comes with one little cherry in it, and it tasted like ribena with some other kinda liquor, and the alcohol content was not very strong, hence you could find, Pussy Juice in the medium section of cocktails and is served in a Guinness Half Pint Glass. Sayang ordered a sperm shot, and it was abit too strong for her, so in the end, we swapped drinks. Bernard's Sperm shots does indeed come in a shot glass....



Our main focus that day was to try these two items. Bernard's Chicken Rice and his Nasi Lemak. Bernard's Chicken Rice Set comes with a Quarter Chicken, chopped up and served on a plate of cucumbers, and light soya sauce. A plate of bean sprouts, poured over with their mix of sesame oil and light soya sauce, a bowl of rice, and the peanut soup.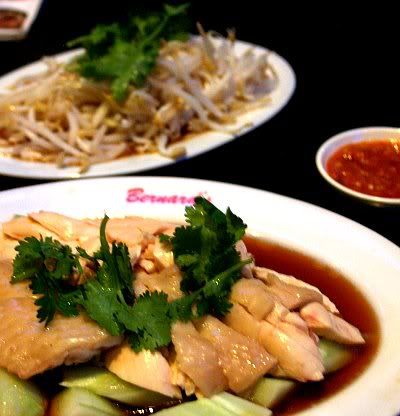 While eating their chicken rice, you will realize one thing, their serving is huge, their chicken is moist, shiny, slippery, and tender. The sauce mix is nice and tasty, but still can't meet up with Ipoh's chicken rice. I'd consider this to be the better chicken rice we can find in KL. For chicken rice lovers, you will love their chili paste, again one of ze best in KL.


Sayang's usual order is the Nasi Lemak. Bernard's Nasi Lemak comes with a huge piece of fried chicken, a bowl of santanized rice, one whole boiled egg, tasty sambal, acar nyonya, and a few slices of cucumber.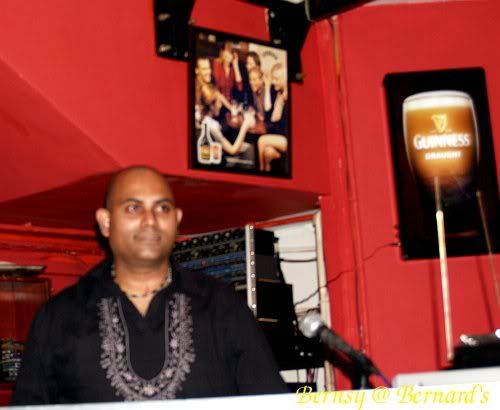 While you are eating, drinking or whatevering, Mr DJ spins up some 80s easy listening rock songs for your pleasure. On weekends, you should be able to see less of the Happy Hour crowd and more of the family crowd coming here for their food.


The following weekend we brought Sayang's Parents to come sample their food. I have also decided to try other things, like Seafood Spaghetti (which has some other name ), Appa went for his fish and chips, and Mom, tried their Prawn Mee. Sayang leh, Nasi Lemak again.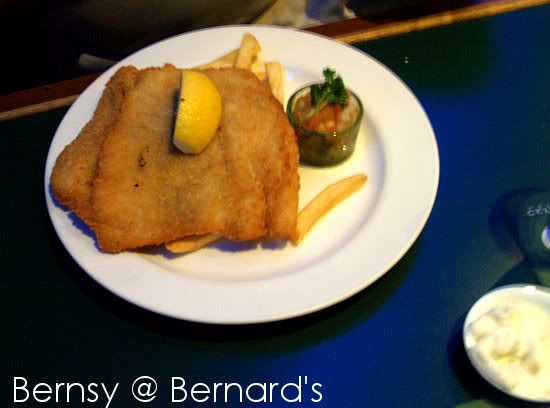 Sad to say, their other food we tried was all so so only. Do not wish to elaborate, but, Sayang's Nasi Lemak was still the best served food on the table that evening. The fish and chips was well tasted like fried fish fillet and chips, with a special kinda salsa, which tasted abit sourish.

The prawn mee could improve but still just on the average side. It has got two huge prawns in it. In the end, my recommendation is still to go and try their Nasi Lemak ( Rm12), Chicken Rice (RM12) , don't try their Pussy Juice its not that nice,unless you really want that cherry. Try Bernard's Sperm Shot.. it just looks quite nice, and its quite a strong drink.


Address:
G9A-14, Centrepoint,
Jalan Leboh Bandar Utama,
47800 Petaling Jaya
Selangor
Tel:03-7710 3188

Also read:

KYEATS
Memoirs of a Chocoholic