I was driving down to Bangi one afternoon, taking an unusual route towards Bangi, via Uniten, calling it the back way la....
I drove past uniten, and then those training centers and the junction into MPOB, I saw a crowd at a very down to earth stall.  I instantly told myself, after I finish whatever I am doing I am coming back this way, to see whats in store for me.....

The stall is bawah pokok, hence, it wasn't very hot. I'd normally keep away from hot stalls with zinc roofs, so that I don't perspire to the point where I smell stronger than the food. Anyway as I walked in I looked around to see what those people were having... soup... omigosh.. soups... soups and nasi lemak bungkus (that's weird !!)....  Normally people just eat soup and white rice isn't it ?

So what the heck I also ordered myself a bowl of Sup Daging.. and Helped myself to one pack of the Nasi Lemak bungkus.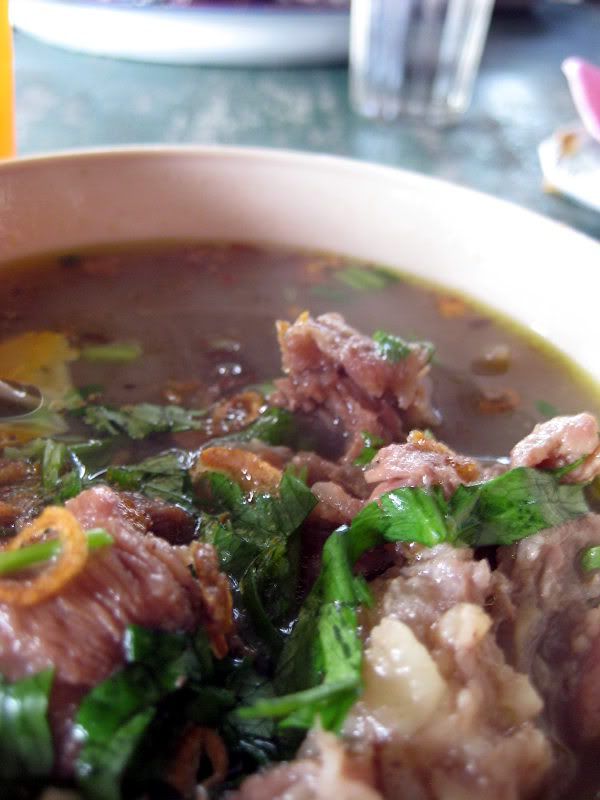 The bowl of soup was nice.  Really full of spices, aromatic, and not too salty.  Plus the aunty at the stall gave me a generous helping of meat in my soup.  I finished all of it, clean, nothing was left, except for the bones.

The Nasi Lemak was really nothing much to shout about really, and I would have much preferred it if they actually served white rice to go with the soup. 
Directions all I can tell you is that from the UPM toll drive towards Bangi, where all those Pusat-pusat Latihan of Public Bank and Maybank is situated in Bangi.  Along the road, you should see that water tower, the stall is opposite of that water tower. 
Also look out for this Police Station that says Dato Abu Bakar Baginda...  thats the Kampung Name I guess, in Bangi.  Their sup ayam, sup daging and sup gear box is superb, as I was told.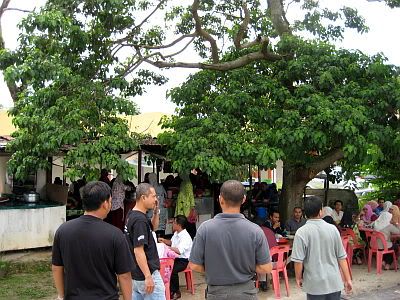 Thats what I saw, how not to turn back and see whats the fuss all about... hehehe
Also read: