After trying their most talked about ribs, I had aways wanted to come back and check out their pork noodles. So much so, that one day Adrian was in the Centrepoint area, and asked me, dude, whats nice to eat here, immediately I said, try their pork noodles @ Champs. Although I have never even smelt the noodles before, the recommendation was based on reputation.. hahaha... So our friend came back on Monday morning and told how nice the noodles were and all...
So fast foward a few weeks later, I mentioned pork noodles again, and I got him fantasizing about Champ's Pork Noodles ( Chu Yoke Fun ), so much so, we ended up at Champs that night.
Surprisingly our friend arrived on time while Sayang and I made it there slightly later. It seems on weekends this place can be preety slow, either that or as I remembered it, it was the day Petrol prices went up to RM2.70.

For a pub, they surprisingly sells drinks like Teh Tarik , Kopi - Ping, Barley ice, etc... I ordered a Tiger for myself, while they ordered their Teh Tariks. Drinks were quite alright, and they have Guiness, and Kilkenny of the tap too...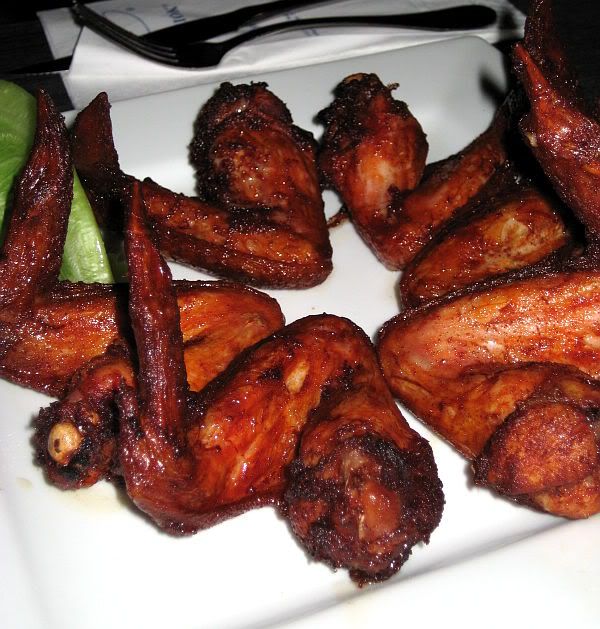 Starter of the day was, half a dozen chicken wings. Marinated with spices, it is deep fried and served smoking hot. Usually when its smoking hot it tastes the best, especially when you rip the meat off the bones, and you see smoke gushing out, followed by its aroma, definitely a feast for your senses. Unless of course, the next table start blowing cigi smoke over la.. hahahaha...

Sayang ordered her prawn mee, which came in a big white bowl, its broth oozing out with aroma, before they put it on the table and all. It had two pieces of big prawn, lots of chicken and pork slices, and the soup was sweet and bursting with flavours. Spiciness was just nice for Sayang although I might "ka liu" with the additional sambal provided.

Adrian and I both went for the Pork Noodles that we have both heard so much about. In this bowl is a generous serving of bee hoon, lots of choi sum, lots of pork slices, pork liver, eh what do you call chu cheong in English ?, minced pork, and lots of lard...... The soup was so flavourful, and sweet man... this is what I call in Cantonese, lok chuk liao ( the right ingredients, in generous amounts ). The noodles costs about RM18 / bowl I think, and it was all worth every penny. The pork noodles were like freaking awesome....

There shouldn't be a need to call up and reserve, although on weekends, you have a lot of families coming in to dine, and they fill up the pub in no time.
Champ's Bistro

Address: Lot F10, 1st Floor, Centrepoint,
Lebuh Bandar Utama, Bandar Utama,
47800 Petaling Jaya, Selangor.

Telephone: 03-7722 5800
Also read:
Bernsy - Trying out their Ribs at Champs
Nic's Visit
KampungboyCityGal
Kiasu's Visit