Visiting Sydney has somehow opened my eyes, and I realized the real meaning of "multi-cultural" after visiting this city. My cousin's GF had some very good friends in Sydney, and while catching up with her friends, they also brought us to sample some very nice Indonesian style food.

We met at a suburb called Kingsford. I was told that many Indonesians moved here and sort of formed a community in this part of town. As such if you go there, you will here a lot of indonesian spoken in this part of town.

Ok, so we got seated down, and we were handed the Menu... whoa... in Indonesian wan, with English translations. Lovely. To tell you the truth, I don't really remember what we ordered,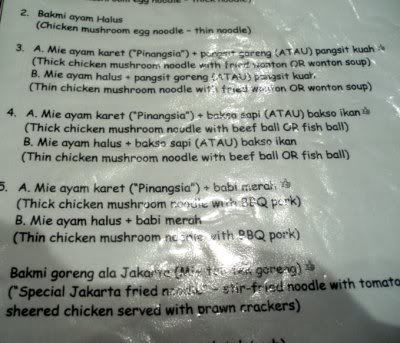 but one of them is this big piece of fish ball. Thats actually the size of a tennis ball. It tasted like keropok lekor. Even the chilli sauce was sweetishly spicy, very similar to the ones served with keropok lekor over here.


This picture is very OOF. This bowl of noodles is filled with mushrooms, intestines, choi sum, fu chok (crispy n yummy), pork and chicken. It is served together with clear soup (very much like ching Tong).


This one's mine, I ordered Mie Karet Ayam, Babi Merah. I actually was wondering what Babi Merah is, but when I saw it, I was instantly delighted. The noodles set were about 10 bucks, and it comes with a big bowl of noodles, a lot of ingredients, and a small bowl of soup and meat balls. You can have fish, chicken, beef or pork balls (your choice , I think).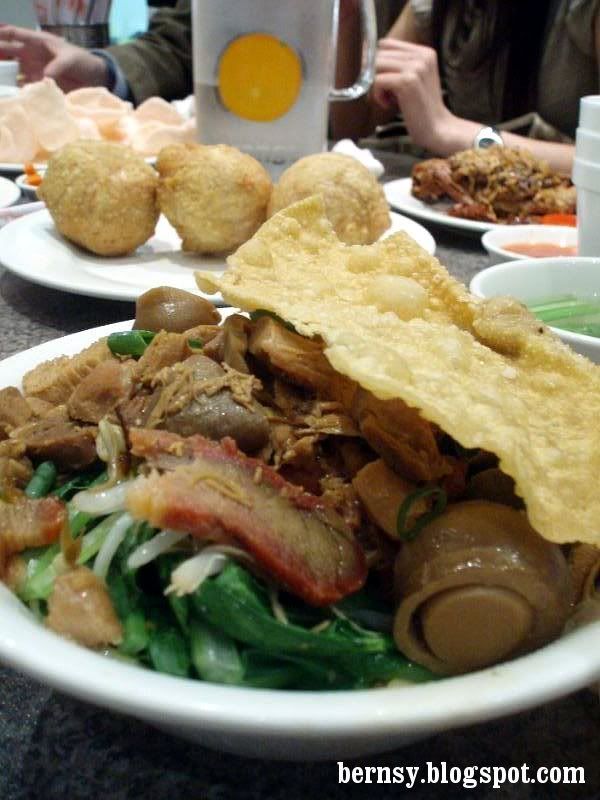 My cousins had this really funny looking duck or chicken. On top of the duck/chicken, it looks like some form of fried onions ( I know for a fact that most Indonesians like to have fried onions on their food ...) .


Then we walked about 50m away, to this other place called Rosebery Martabak for desert. We were going to have Indonesian pancake.


We had to wait about 20 minutes for our Martabak. While waiting, my cousins took the opportunity to catch up some more. While they caught up with each other, I was happilly flipping the pages to some Indonesian magazine published for Sydney. Must quite a big community here, they even got their own Magazine over here.

We ordered a Martabak with peanuts, and chocolate in it. It was for 14 bucks. To me not quite worth it, but my cousins were appreciating every bite they had, I must assume.


As for me, I was not that impressed with how good it tasted, we were just too pre-occupied with thinking that, we actually waited so bloody long for, "just a martabak" and paid so much for it, not sure what we call it here, but we can get something like that for RM2 , without the chocolate, APAM balik or something like that.

However so, Sayang did make a statement, this Indonesians must be rich..... they pay 12 bucks just for that.... fuiyoh !!! For us, we are tourists, its different. I wouldn't mind go looking for martabaks, when I am in Jakarta, but I won't go looking for martabaks again in Australia. Even if I don't convert, I won't pay Rm12 for a Martabak with chocolate and nuts...

They also offer you martabaks, with peanut butter, strawberry jam, apricot, etc... Judging from the waiting time, I must conclude that Rosebery Martabak is a very very popular place in Kingsford.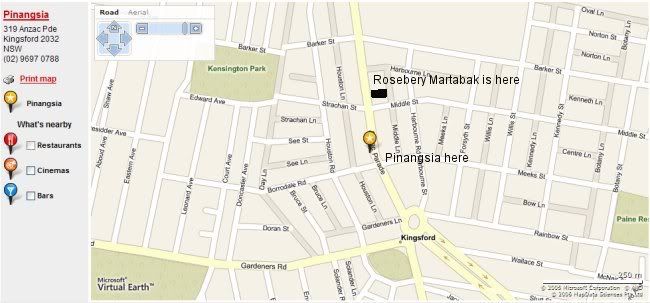 I would like to come back to Pinangsia again someday to try some of their other noodles. They were yummy, feeling and good value for money. Oh yeah, they give you free chili padi also, to me that was a big plus.