NOTE: taking a break from blogging about food in Aussie.

Some time back, I was walking around in Mine's Shopping Fair, and I spotted, Ah Yip's Herbal soup. My impression of this place was not very good, because it was not a lot people in this eatery.

In my mind, I whispered to myself, " must the Spices FoodCourt taking away all their customers la." Interestingly enough, they serve lots of soup over here. I told myself, must come try drink some soup. Since nowadays, I hardly eat home, and mom also hardly cook herbal soup....



The first time I got there, it took me awhile to decide what I wanted to have. The menu was very informative, and it described what each soup does for your body. Improve eye sight, refurbish lungs, give energy, etc ( get the drift ?...)


Cordycep Nourishing Soup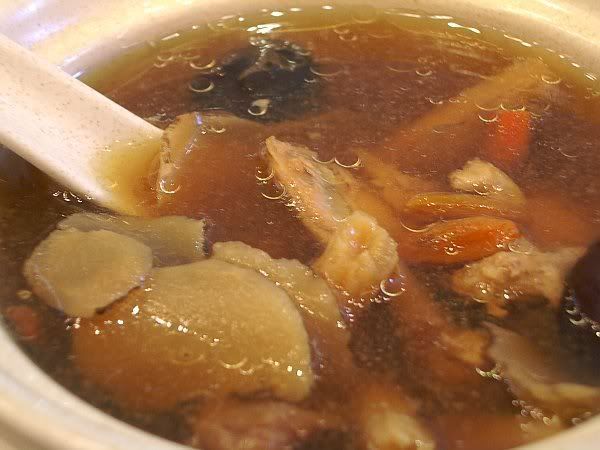 Some kinda soup that nourishes your lungs


Some Kinda soup that nourishes your eye, and general health..




The soups price varies, depending on what you want. They have easily about 40 types of different soups for you to chose from. The ones I had which tasted pretty good (had lots of herbs in them) were about 11-15 bucks. Some goes up to about 99 bucks per bowl.

They also have these other deal on, add Rm3 to add a small serving of Vegetable and Chicken and RICE. Thats like a good lunch if you ask me... Right they also have some TEA time deals, which gives you a plate of noodles and a drink for Rm6.90.

I think they do make some pretty decent soups for the price they charge us. Worth a try if you haven't been getting enough soup from your loved ones... hehehehe...

Branches:

City Square KL (03 2163 6737)
The Summit, Subang USJ ( 03 8024 7793)
Sri Hartamas Shopping Center (03 6201 2781)
First World Hotel in Genting (03 6436 0122)
The Mines Shopping Fair (03 8948 7733)
Plaza Low Yat ( 03 2145 5471)
Kompleks Mutiara Jalan Ipoh (03 6250 3638)