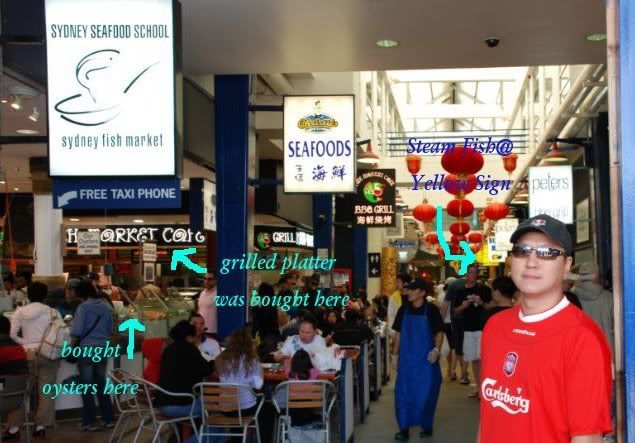 Sydney Fish Market, is definitely one of the highlights of our visit to Australia. Not only did it open my eyes on how the Aussies ate, we , here twice. On the first day, we came to this market. You can get a variety of seafood, fresh and cooked. A list of well known seafood retailers again providing cooked and uncooked fresh seafood.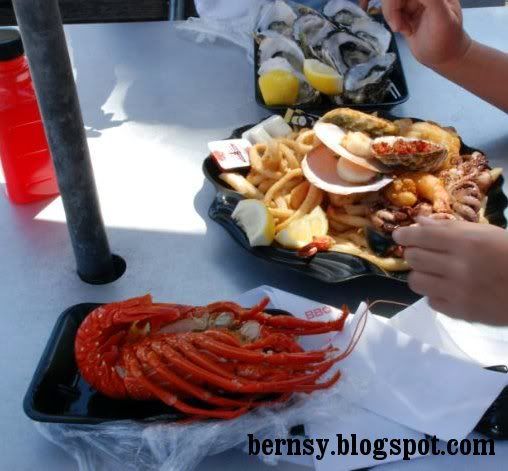 The first time we came here, we picked up a nice cooked Lobster (plain), a plate of seafood platter with fish batters, fresh grilled scallops, deep fried calamari rings, deep fried prawns, oyster kilpatrick, grilled mussels, serving for two. We also got ourselves a dozen fresh oysters. So fresh, we actually watched them clean the oysters infront of us. All that for about 60 bucks total. Lets count again, Oysters (1 dozen @ $14), Lobster ( 1 @ $ 22), and Grill Platter ( $25).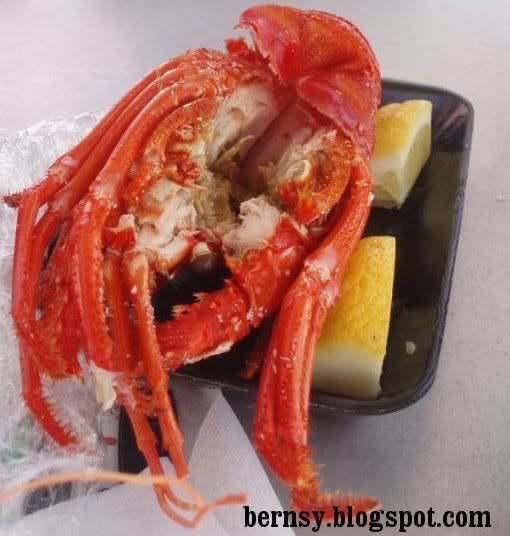 Another look at the huge lobster we had. I was told it was very fresh, much better than the one's Sayang had in San Francisco. To me, I really don't know how to appreciate lobsters that much. I still prefer just prawns.


Another crowd favorite which doesn't really appeal to me. I had 2 of them and found them really really fresh.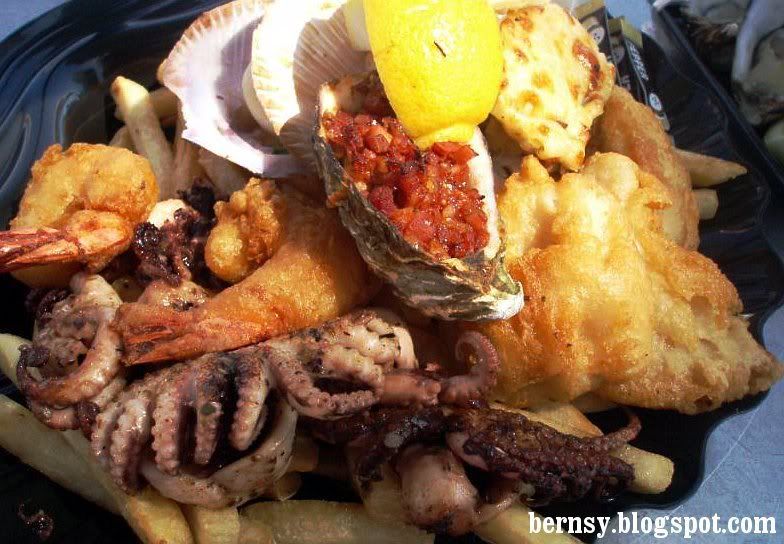 Ah.. there it is, our grilled and deep fried stuff. Although most of the stuff were deep fried or grilled, you can still taste the freshness in the seafood you buy from this market.


On our second visit, we ordered a fried platter for one, bought two pieces of fish, the Lingfish (top) and a trout (looks like salmon as below), and a lobster mornay. You know what, this is weird, because the white piece of fish above tasted just like a fresh piece of COD. And the orangy fish below tasted like salmon, but actually is some kind of a trout.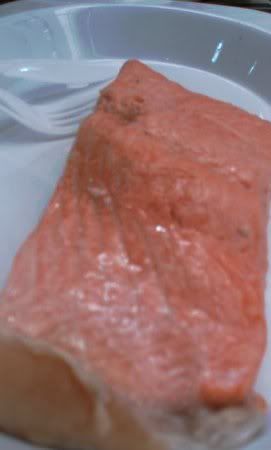 Overall , we found the food here to be very value for money. That's the reason why we came back here, again. We obviously will come back to this fish market and glut. Everything here costs half as much as the restaurants in Darling Harbour. So here's the tip, eat all your seafood here, and save your tummy for something else.