We were just wondering what to eat after we finished a fitting session at Keith Kee's Boutique. We got to our car, and was driving to Amansuria, when we drove past, MamaChops and Papa GRill. To tell you the truth, no one have been to this place, and why not try out this place right ?

Thats how we always try food la, and so we walked right into the mamachops and papa grill outlet in Amansuria. It took awhile for the waitress to come take our order, as suddenly there was two more tables that arrived, just before us. Since they only had one girl working in front, we had to wait to get our orders taken.


After ordering, our sidedish was quickly served. This was a basket of garlic buns. Just KFC Hotbuns, spread with garlic Butter, grilled and served in a little basket.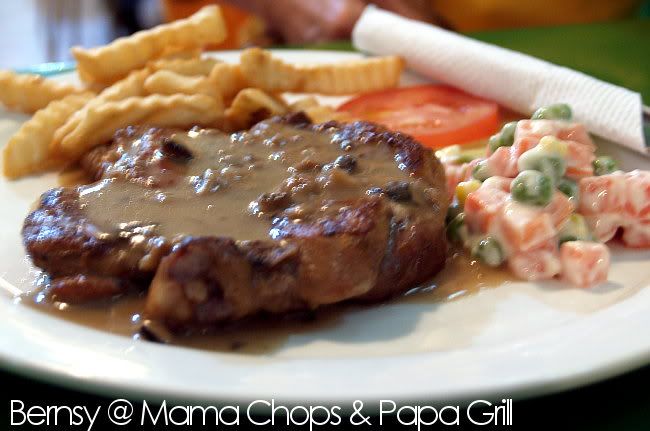 Sayang's mom ordered her Mushroom Chicken Chop. She thought, it was just ok la. For me, it looked like it was styled towards the Hainanese Chicken Chop style of cooking. I took a piece and thought, ok la, it was really nothing special.


I wanted to have my beef, so I ordered this Grilled Ribeye Steak. I asked for Medium, but I got Medium Well. The rib eye was served with coleslaw, ala KFC style. But their fries were nice, and luckilly it wasn't served KFC style also. hahaha.....


Sayang also abit short on her Red Meat, opted for Mint Lamb Chops. Grilled a bit too dry for my liking, but she loved the lamb. Again the lamb, was not of the better ingredient, but in the end, our meal costed below RM50, so no complains la.

My complains with this place would be just two things, SERVICE, and they served me a 90% cooked Ribeye, when I asked for Medium. I wanted a bloody piece of meat, but they gave me a dry one, no hint of blood, and so on and so forth ( I like my meat Juicy !!! ) heh !!!

Other bloggers review:

There She goes Again


Pros: Really Cheap for a Western Restaurant. Huge Drinks
Cons: Don't know how to cook steak wan.