I think when someone mention Kepong, each one of us will have a different image related to the place. For me, its a place I willl soon be moving to, and thus going to be spending a bit more time at. Its also a good place to hunt for good food, especially if you like street fares, and semi formal restaurants.

Of late though, Kepong has sprung up with two new "above average" chinese restaurants, like Regal House and Emperor Garden. I tried to look for my Regal House review, which I didn't write so the link is to Nic's review.

The first impression I got when I walked up the stairs leading to Emperor Garden, wah blardy grand wo this place. Air conditioning powering away full blast and all, and the usual chatting and high noise level of a chinese restaurant ( very evident in restuarants like Fullwealth, Tai Thong, Oversea, etc).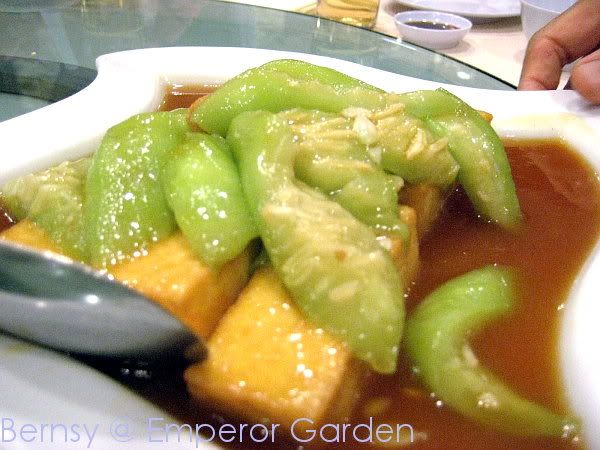 The first dish that came was tofu and some vege. I know what its called in cantonese, but have no idea what the vege is called in English.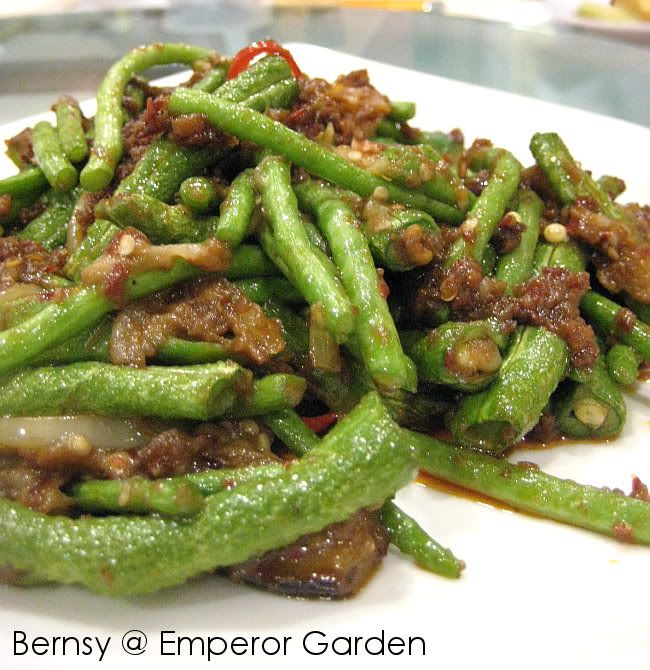 My parents love this dish, the four heavenly kings. I still have no idea why they call this dish that. Does any of these vegetables resemble Aaron Kwow, Leon Lai, Andy Lau or Jacky Cheung ? ...

We ordered a serving of Pork ribs too. Looks like it was deep fried first, before it was put into a marmity type of gravy, which is sweet, aromatic, and salty. Yumm... if I remember correctly, you could see Sayang's face smiling while biting into those ribs....


I thought this dish was quite nice. Some kinda deep fried fish pieces cooked with buttered garlic bits. Lovely, the fish was fresh, and tangy, and the buttered garlic definitely gave it the extra kick this dish needed. I think there is also lots of lard in the garlic too...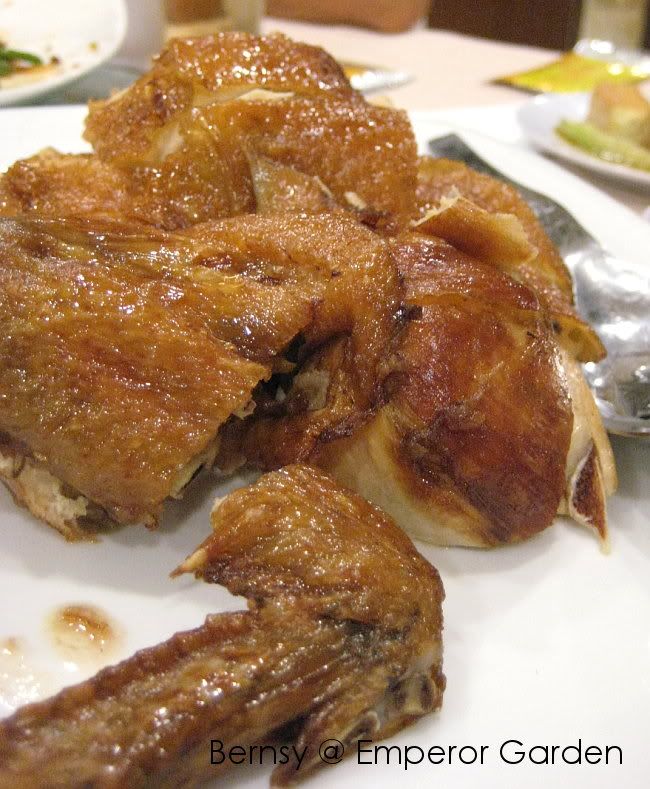 Their roast chicken was nice. Skin was crispy but I think some parts like the breast was a bit too dry. I had no problem with the food here.

To summise, everything seems ok, food is alright, service can be improved. Pricing leh, its higher than Regal House and Fullwealth. The environment here is best, with a nicer looking entrance, seats, the whole works.

Emperor Garden Restaurant
Gold Hill Club
No18 Jalan 7A/62A,
Bandar Manjalara,
52200 Kuala Lumpur

Also read :

Waisikmiao