Recently I have had the pleasure of taking out some Arab friends to lunch. They can be very choosy as to what kind of food they eat. Rice is definitely not one of their favourites, although they are open to our local delicacies as long as they are branded halal.

So to save me the trouble of choosing where to eat, in the Serdang area, I asked them to bring me go eat Arab food. To my delight, and to theirs as well, I was brought to this row of shop lots, opposite South City Plaza, to this Restoran Taktaz.

As you walk in, you can't help but feel their sense of camaraderie amongst the Arab world, and their many types of people, as they speak the same language. My friend identifies them easily, this is from UAE, he is from Egypt, Iraq, and so on and so forth, while I was clueless as to how he knows.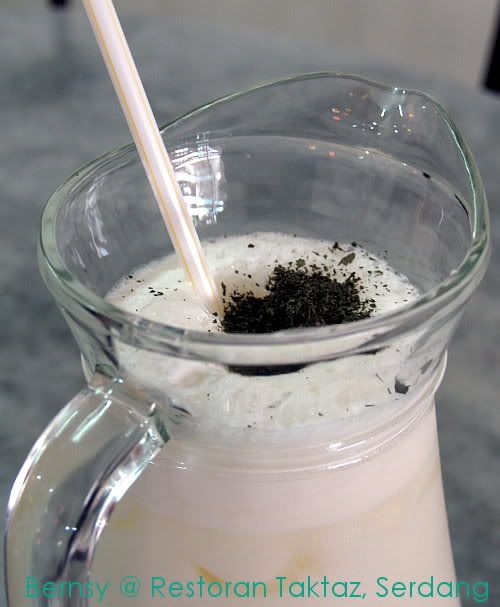 We ordered a pitcher of Yogurt with mint. I believe its called Doogh, a kind of yogurt drink which is very popular in the Middle East. My friend, was telling me, they can drink these stuff all day back home, especially when its really hot and dry, Doogh, helps to keep them hydrated.
It wasn't to my taste, as it is watered down Moru, with salt and dried mint.


I ordered myself a Lamb Kebab with Rice dish. Its very different from what I am used to eating. This dish is served with a rack of lamb meatballs (similar to pork ball noodles ) but they call them lamb kebab, heavily marinated with black pepper and mint. I think it is fried then put in the oven before it is served with long grained rice on top, with just a touch of spice on top. A grilled tomato on the side, and single serving of salted butter as condiment to the white rice.

I finished the lamb kebabs which I thought was quite enjoyable, although I know a lot of chinese who will never touch lamb. I found the rice a tad too bland as I added only a little bit of the butter given (fat ma....)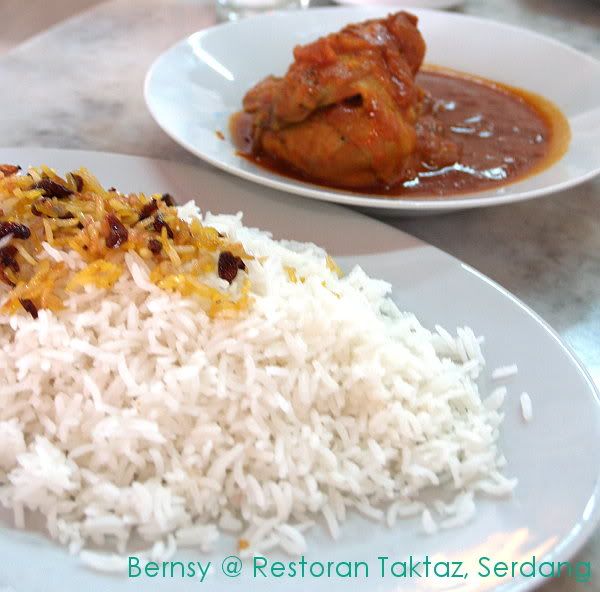 My two friends went for this chicken curry thingy. They both enjoyed it so much. They finished everything including the hill of rice. The only difference with their rice is that it has raisins on top.



I couldn't resist the idea of ordering a non alcoholic beer that day, which tasted nothing like beer. Never try it again... and neither will I recommend it to anyone....Their prices are quite reasonable, main dishes are from Rm 8 - Rm25.

Restoran Taktaz
No B-G-3, Block B, Persiaran Serdang Perdana,
Taman Serdang Perdana,
43300 Seri Kembangan
Tel - 8941 3364