This post has taken a bit of time to get posted, but better late than never. During Chinese New Year, our family , aka the uncles and aunties, usually takes turn to belanja makan. So all those eating cramped into a space of 15 days, one can become jelak, if there is repetition.

One phone call from my aunt, and we were summoned to Restoran Oversea's Jaya 1 outlet. It was packed that night, and the service was slow, and the restaurant just was too noisy. We have to raise our voices to talk to each other in the restaurant.



In spirit of the Chinese New Year festivities, we had this Yee Sang as an appetizer. The presentation wasn't exactly great, but most of the ingredients were fresh, added texture, and taste to the collective as a whole. Of course nowadays, Yee Sang is served mostly with the freshest salmon slices, and as I remembered correctly, Overseas had a strict policy on serving food with the freshest ingredients.


In our set dinner, a shark's fin soup was also included. It came in a starchy broth, filled with lots of shark's fin, and crab meat in it. Tasted quite good, and as we went on, so far, 2 out 2 dishes that came out pretty much impressed my tastebuds. Sayang who seated next to me, approves as well.



This blurry picture of this Chandon bottle, probably plays a role as to why were enjoying the meal as well as the company. It was a great bottle, but shared amongst quite a few relatives, we wished we brought a second bottle.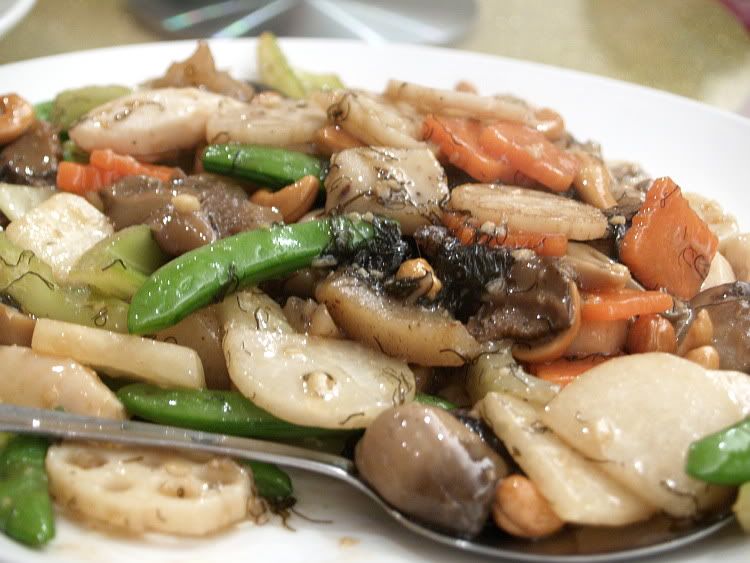 This dish is an assorted vegetables dish with mushroom and macadamia nuts. I am a sucker for this dish especially at Overseas. Everything came crunchy and fresh. No hint of fibre in those celery sticks on that dish. It was prepared very well.

This steamed Red Garoupa, came with out much presentation. But it was huge, meaty, juicy and very very sweet.



This is a broccoli with abalone, mushroom and sea cucumber.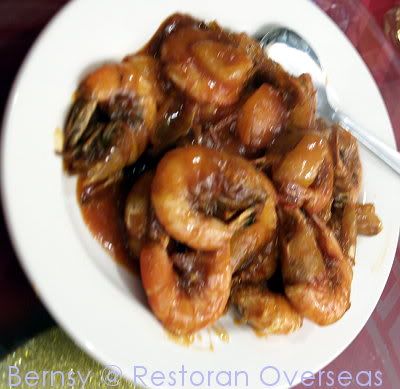 Perhaps had too much bubbly, picture of the plate of prawns which I finished half off. LOL.... Nice big juicy prawns.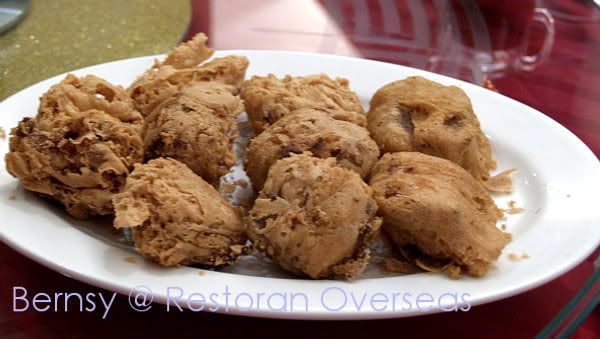 To finish off, the dessert came with one Tong Sui, and a Lin Kou (sticky rice cake). Everything was appetizing, generous serving for all dishes. I had no complains about, fish not cooked enough la, the prawns smelt funny la, vegetable a bit over cooked... everything was alright.

I really enjoyed every bite that went into my mouth, although they could improve on the food presentation. It was like everything cooked in a jiffy, dumped from wok to serving plate, wipe off the edges, and then served.

Service was a big let down. Why ? Because I had to go to the pantry to refill my tea, and collect more ice.

If you are looking at a quiet restaurant where you can chat or catch up with friends/relatives, this is not the place for it. On the other hand, if you wanted to just eat some good food, I recommend this place.

Price : I don't think that meal was cheap, but Uncle Belanja, bes !

Call Oversea @ Jaya 1
Sam Chow : 03 7956 9911

or visit their own website for details of the other outlets