This post has taken a long time to reach here, as we have been busy with work, church and preparation for our wedding dinner coming June. So much so, it has somewhat affected my blogging habits. Whats a more fitting time though, that I have just recently come back from a Penang trip last week ( food reviews to be posted in time), memory still fresh to compare the food in Penang and at this Gurney Drive place in The Gardens.


Above: A very nice hard cover menu, that holds the menu, quite a substantial menu full of Penang's Hawker Favourites.
Below: Nice traditional sign board, gives you that very traditional rustic kinda feel. But the restaurant is of course nicely air conditioned, the seats and tables are spacious and comfortable. As we walked in, a nicely dressed customer service personnel will usher us to our seats. The restaurant setting is made like hawker stalls in a modern food court, but you do not order at the individual stalls. The entire restaurant is actually a restaurant, with table service....


This restaurant claims to serve authentic Penang Hawker food, but I am sure a lot of Penangnites who is willing to part with Rm15 - 20 for a plate of their favourite hawker fare, will probably tell you, nah... KL Penang food is never as good as the real one.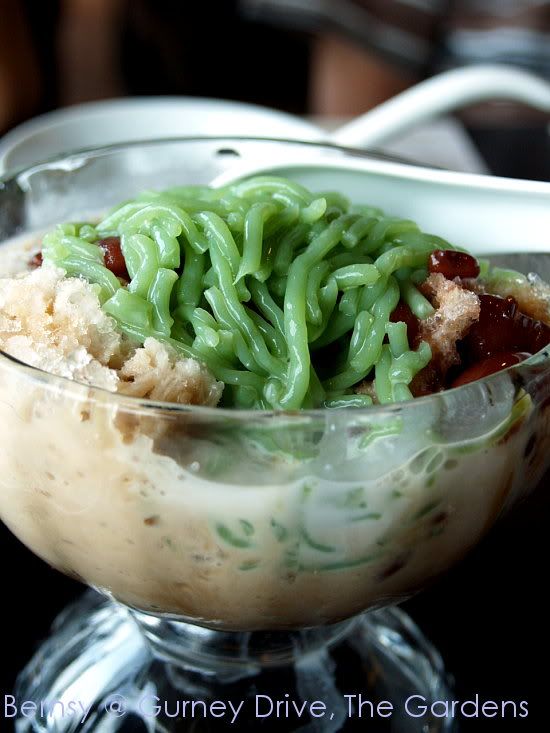 We ordered some drinks, but the stuff that stands out are these two, Penang Road Cendol, and Penang Ice Kacang. I just had two helpings of the Penang Road stall recently, and hmm... I thought at The Gardens, it did taste quite good. Maybe or perhaps they get it direct from the same Penang Rd proprietor who also has stalls in Subang.

I gotta, say though that their Ice Kacang was not as good as I like them to be.


We ordered two of the most Eaten hawker foods in Penang. Their Prawn Mee and the Asam Laksa. As far as I remember, I thought their Prawn Mee was quite nice. The soup base was quite rich, had nice big prawns, came with some pig intestines (not standard ingredient in Penang though), and a generous serving of bee hoon in it. Try la toptaste Prawn MEe at McAllister Rd, thats my favourite...

The Asam Laksa was done quite, well. The soup base again, very rich, and served with a spoon of Prawn Paste, just liek they would at Penang. Hmm... yummmy.......but my number 1, still try the Air Itam market's Asam Laksa (Kek Lok Si Temple), very tasty but also very dirty.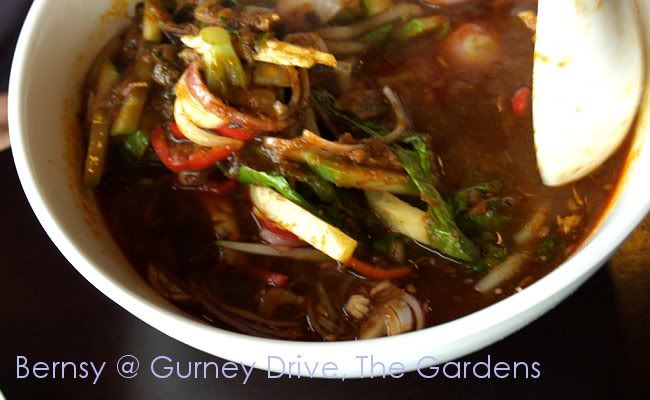 Now, their Char Koay Teo didn't disappoint at all. I thought it tasted quite good, but of course when you pay so much for a plate of something you can get for only Rm6 at Lrg Selamat, but it tastes quite nice. Much better than a lot of CKT you find in KL/Pj.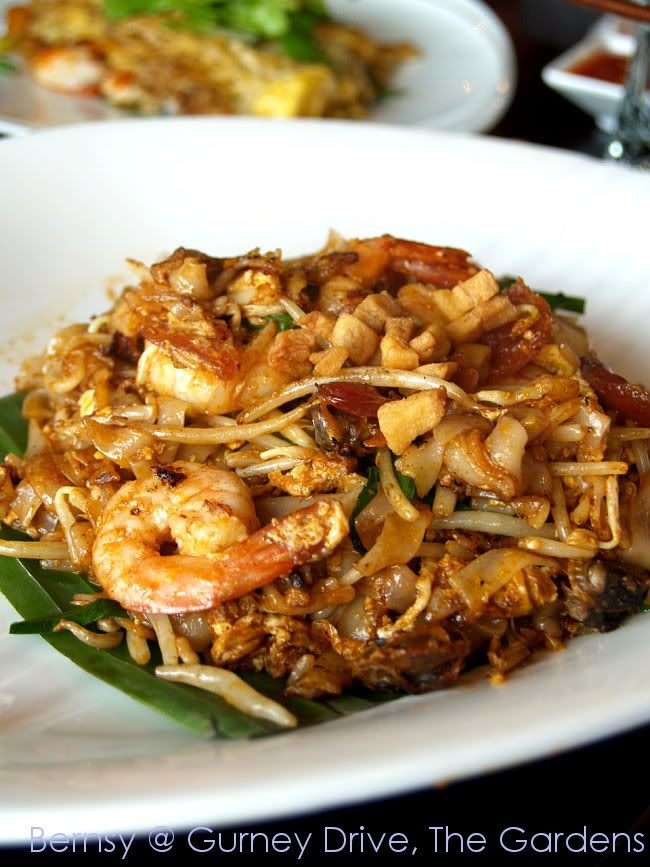 My dad ordered this Mee Goreng Mamak, on the menu I think it says RM18. Immediately when I saw it coming, it put my palm on my forehead. Alamak why you go and order mee goreng pulak. I normally don't like to order them because its usually salty, and too spicy hot.

I grabbed a fork and pinched some, and it was a pleasant surprise. Very very good mee goreng mamak. It is a must try...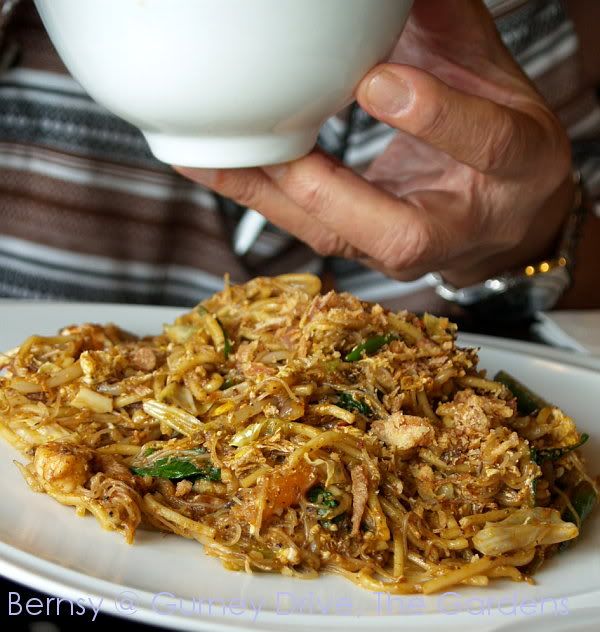 O Chien , RM18, lousy....


I have very mixed feelings about this restaurant. I mean the seating and table arrangement will instantly give you the impression that its an expensive restaurant, but the stuff they offer on menu are hawker stall favourites from Penang. Its definitely a good place to bring your foreign friends to go try our local food, if they are afraid of eating at dirty stalls, at Jalan Burma, or Penang Road. Ok, prices were from 15 - 20 bucks for each plate of hawker favourite. Drinks were from 6 - 10 bucks each... wah damn pricey.... but the food here is definitely quite good, better than most of what KL can offer anyways..

When you go try their food here, try to ignore the price, and evaluate their food based on taste only.. If you ask me, definitely serves better quality food than the Little Penang Cafes....

Gurney Drive,
Lot T-201, The Gardens,
Mid Valley

Also Read:

YowWazzup
Sabrinachan
MalaysianFoodBlog