It was on the same day after we visited Village Park, in DU. We finished a nice lunch, not too heavy, and we were walking back to the car. And when we looked up and saw a huge sign, 1A Crispy Puffs. For an instance I thought it was a huge billboard. When we walked towards it, we were very surprised to find a shop in DU, selling only puffs and tarts.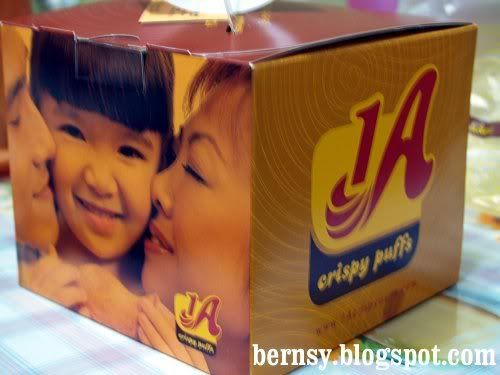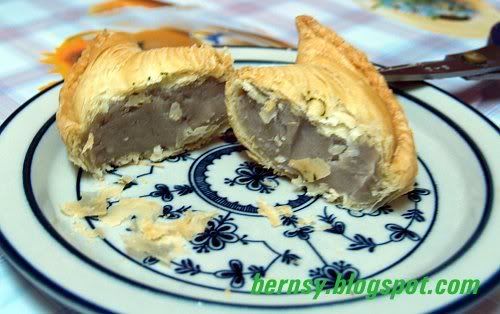 Since we all baru habis makan lunch, we decided to but them puffs and tarts to go.
Their box is a work of art on its own. Its like a little puzzle as to how they close the lids in so many layers.
We decided to try just a few flavours, 3 to be specific because they were not exactly cheap. Starting at RM1.80 each to about RM2.60, I must say they are the most expensive tarts/puff I've had. However, still a fraction of the costs of most Meat pies.
The Yam Puff was quite good. The filling really filled up the entire puff. So it was flavourful, and very worth every penny you pay for it.




























The second one we tried was their curry puff. Their curry puff is slightly bigger than the normal Rm0.80 ones we eat at Mamak or the market, but the ingredients are totally different. Again, filled right up to its pastry, every bite you sink your teeth in, it returns to you a flavourful spicy taste and yet its not too chilly hot.

The third one was the durian puff. It was good, and I bought a whole lot of these puffs for my American friend the other day, and he said, its just good to have durian puffs, the next best thing to have other than the real ones.

Their pastry is nice, crunchy, and does not stick to your teeth. It also does not feel too oily. And overall, the filling is plentiful and very tasty.

Also Read:


UGWUG
Joe's Encounter
1A Cripsy Website
Locations:
DU - next to Village Park
Tesco Extra Cheras @ Taman Midah
Sg Wang Plaza Monorail Station (They have a booth there)