I have to admit that one of the icons of Kuala Lumpur, would be Wantan Mee. It is like Penang CKT to Penang, as in Wantan Mee is to KL. Have not heard of anyone telling me, the bestest wantan mee is found outside of KL.

One of those older restaurants that serves only Wantan Mee is Hung Kee, situated at Jalan Loke Yew, for as long as I knew them. They have been there for ages, growing from just a hot and sweaty one shoplot eatery to now, a 2 Shoplot Air Conditioned restaurant.



Its just one of those places you drive by, while using Jalan Loke Yew, and without you will definitely tilt your head slightly to see if they are open. These people are legendary, they are like a landmark I will use to give directions to people.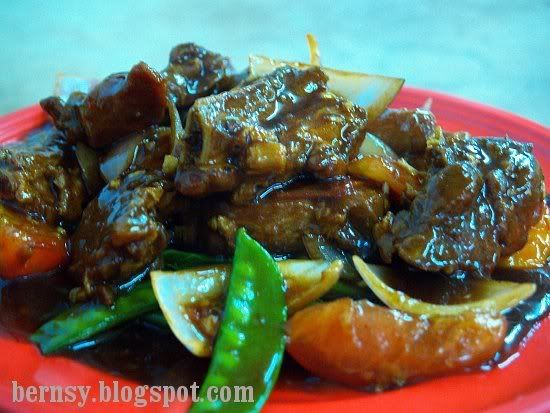 That day we walked during lunch time to find the restaurant filled to the brim. You can find all kinds of people, foreigners, locals, neighbours, and out of towners. We waited a short while before someone left, and we quickly grabbed the table. We only waited about 5 minutes before the auntie came back with our order.

I found the wantan mee to be quite alright, important thing is that I am not complaining. I must confess, I ain't no big Fan of wantan mee, but I eat them nevertheless. I ordered Chicken Feet and Mushroom Stew ( Tung Ku Kai Kiok ) , while Sayang had her Char Siu Wantan Mee.

We also added a Stewed pork ribs, which were very tender, and cooked to the point where the meet is moist and almost falling off the bones. A little too salty but generally thought the dish was quite okay. (gotta admit the picture is definitely OOF, have to learn to stabilize hand better)

This is my first visit here for years, although I have been frequenting their branch in Tmn Shamelin where they have a bigger outlet, with air conditioning as well. Their Shamelin outlet specializes in ala carte type of food. Also suggest other readers to try out their Shamelin Branch.

Address:
28-5 and 28-6, Jalan Loke Yew
Pudu, Kuala Lumpur

Also read:

Lyrical Lemongrass
Masak-Masak
Vincent's Waisikai
Eatinout
MrNipple's Visit