We will drive pass this restaurant which is located in Taman Segar every now and then. Someone has recommended this place to us before, but somehow the chance to drop by always elude us. One day, while we were on one of those unusually early days back in Cheras, means, we ponteng gym somewhere, we purposefully drove to Tmn Segar just to try them out.



If you know Cheras Leisure Mall and the Maxis Office opposite of it. This Italian Restaurant occupies the corner lot, right at the other end of the street where this Maxis Office is located in. After our disappointment at some over hyped restaurant called, Pizza Uno, we were obviously very cautious to test out Venezia if they had the same faults.

First test, I asked the waitress this question: "Excuse me, since this is our first time here, and there are only the two of us, can we try one of your large pizzas with two different flavours ? As in a half and half ?" Waitress: Please wait a minute.. [walked to the counter, blubbered a few words and came back] ok, can sir...

Second test, : Do they serve water ? Answer is yes again. Really unlike Pizza Uno that sells only unchilled Mineral Water for Rm3, I suppose at Venezia they are happy to give you a glass of filtered drinking water.

We ordered a large pizza, with two flavours , one half was made with Seafood, and the half was somekind of a Chicken Pizza. I think that pizza costed us about 25 bucks. It was one of the better pizzas I have had, in Kuala Lumpur.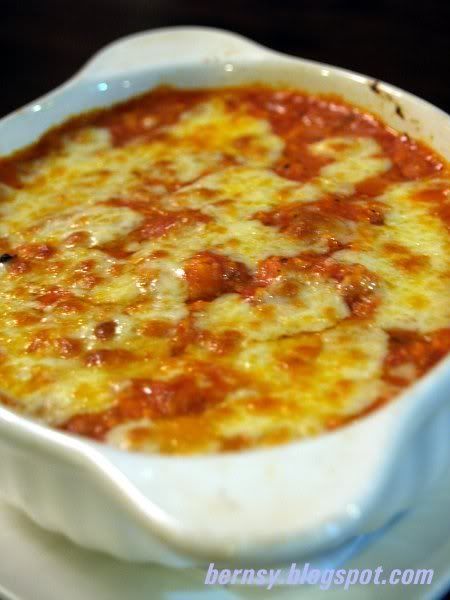 Also on the table, we tried their Chicken Lasagna. Found it a bit too bland, and nothing special. But pass la.... Lasagna, 15 bucks and came in a pretty big bowl. If I ate that alone, I can assure you, it should be enough to fill quite a lot of people up. Jelak also la, so much cheese in there.. hehehe....



For dessert, we shared a tiramisu which came in that little cup. It looked like some kinda cream topped with some chocolate powder. That cup was for about 9 bucks. To be frank I am not a cake, sweets or dessert person. But my only other times having tried tiramisu, it was at Suchan and Secret Recipe, they were like cakes la. At Venezia Italia, this tiramisu very different wo....

If you come on a not so busy day, you can see the boss, sitting outside sipping his espresso. He was drinking his cuppa and we could smell the aroma of his coffee taking over the entire restaurant.

Venezia Italian Restaurant
1 Jln. Manis 4,
Taman Segar, Cheras
56100 Kuala Lumpur

Business Hours:
Mon - Sat (11:30 am - 3:30 pm, 6:00 pm - 11.00 pm)
Sun (11:30 am - 11:00 pm)
Wikimapia link

It says fine dining on its signboard out in front of their shoplot, but I believe they will still serve you their good food, even if you walked in with just slippers and shorts. It really just felt like some small little town kinda cafe where they serve you some really nice simple italian food.