Before I begin, just wanna Wish you Guys a Very Merry Christmas...

The Winter Solstice can be regarded the next most important festival in the Chinese Lunar Calendar, after the most famous one, the Lunar New Year. It falls usually around Dec 22, and this year, its fallen on a Saturday. Usually, the whole entire family will come home and have a meal together.

I don't ever recall myself missing any of these dinners, as usually my mom will cook up a storm. As I have grown up eating all these food, it is generally to my taste.


One of my mom's must have, must cook dish is this pot of Vegetables cooked in Nam Yue (fermented beancurd sauce). This is also the usual dish or pot she cooks up whenever the family goes vegetarian on Day one of the Chinese New Year. This dish has got lots of vegetables in it, usually it has their meanings, black moss, mushrooms, choi sum, red dates, tang hoon, muk yee, etc...) The whole pot is vegetarian, and I love that dish.


This year our sister in law also joined in the cooking. She brought chicken rendang, from her home ,and I thought it was superb. Although the rendang could be reduced more, but I found the taste to be very good. My mom doesn't cook rendang so this is like a brand new dish at home..... yummy !

Also on the table is a plate of abalone, thinly sliced. Its juice in the can is added into the herbal chicken soup.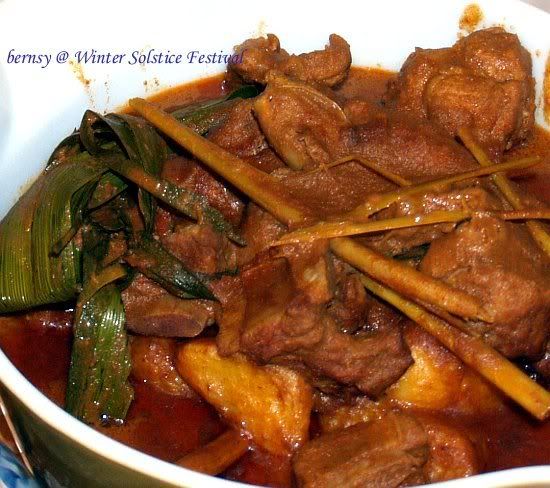 This year my mom's curry dish is Curry Ribs. Since SisinLaw is doing the chicken rendang, she cooked curry ribs instead. Those extra serai sticks and daun pandan really made the curry extra aromatic...



This year's fish, is steamed with ginger slices, coriander, with light soy sauce. This years fish is a slice of Cod Fish and a slice of 7 star Grouper.


As usual, we will have a bowl of herbal soup. Cooked with various herbs and spices, this soup definitely does not contain any MSG, although I did see mom add in a can of abalone juice right before it was served.


Another one of them super nice dishes is this stewed tuber with chicken (Nga Ku Kai).



Of course, during Dong Zhi (Winter Solstice Festival) we can never go home without eating these glutinous rice dumplings (Tang Yuan). This one Sayang helped to make those cute little balls. I tried to make one monster ball, but didn't turn out very nice. kekekeke.....