It was one of those Sundays which we decided we wanted to be lazy and not do anything. So after sleeping in and all went hung out around Bangsar and ended up in MPH. Its that corner bookshop which is 3 floors high. Looked really huge from the outside, had lots of books in it, but not many titles in it. Sayang bought a FITBALL book , so now hopefully we can complement our training program with a few fitball exercises . Yeay!!

Opposite of MPH I spotted this Indian Vegetarian Restaurant, called Madras Woodlands. Just a few doors away from McDs. Wanted to go put something in my mouth, but Sayang, suggested why not we go to Saravana Bhavan's !! I was like, eh whats with this place la... ok la lets go try it.

When we arrived at the place, I found out that Saravana Bhavans are undertakers of food. Or according to their signage, they cater for Outdoor Undertakers ?



Anyway they might have some superb Indianglish, but they do boast of serving many types of Indian food. Its a vegetarian restaurant, which obviously means, no lamb, mutton, beef, fish, etc. In front of their cashier counter , they put a fridge, just like secret recipe would. Instead of cakes they put sweets. Indian sweets are definitely not something I like to try. Why ? Imagine eating something sour.... your face will smudge rite ? Mine would after eating indian sweets, because they are too sweet. Then they have another counter where they sell, murukus, nuts, and so forth.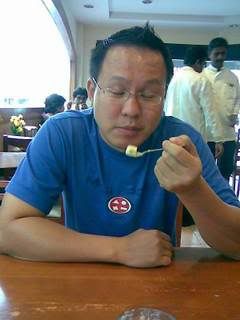 This is a first for me, Indian Ice Cream, Kulfi. This one is Almond Flavour. Has got lots of nuts and lots of milk in it. It tastes good though. It also comes in more fruity flavours. I wasn't over whelmed by the smell of almond, neither was the milk. So all in all, pass la. My first time with it wasn't a bad one , means it is good.


Now when you walk into a vegetarian restaurant, you have to try their Dosa/thosai, their dhal. We ordered a serving of the Dosa Masala. The Dosa was huge, and the filling was of adequate proportions. Just nice to me, although some places might give you a thicker filling. It comes with a small bowl of Dhal, and the usual 3 types of chutneys that acompanies a Dosa. I gotta say the Dosa was ok, so so only, but the Dhal/ sambar, and chutneys when combined with their Dosa, the taste was almost heavenly. Some of the better Dosa Masalas I have had.
This place, got me hooked. Must go back and try their again sometime. This restaurant is situated a long the same row of shop houses as Maybank. Or when you reach Bangsar just ask around, its supposed to be famous.