My cousin came back from Melbourne for a visit, and he reminded me, to post a review of La Porchetta. Hmm, right, I did miss out this restaurant, a rather important one too, because I'd list this place a must visit whenever I go back.

The funny thing is before I started writing about La Porchetta, I did not know that this was a succesful franchise, with a lot of outlets in Australia and NZ.


Anyways, it was our last day in Melbourne, and after a visit to Victoria Market, we took a short drive and arrived at La Porchetta. Oh so my cousin is bringing to eat Pizza, its not like we didn't eat pizza already at Bimbos. You see, my cousin has this thing of bringing us around to see a Story brigde driving up and down, that bridge, and highlighting it everytime we got lost, when we were in Melbourne. Wakakaka... so whenever I got lost, I showed him Motorola brigde at Federal Highway...lol..

The setting of this restaurant is simple, its a restaurant that sits probably at least 80-100 if full. Since it was our last day in Melbourne, we were gonna try eat at a few places, you know like in Malaysia we'd drop by one foodcourt and order abit here and order abit there. The only difference with Melbourne is that, we had to drive he there and everywhere to sample this nice lovely foods.



Of course when we walk into La Porchetta, we must try their pizza. This is a large thin crust pizza, and they allowed us to go for a half and half. One half Pizza Marinara, and another half, chicken peperroni or something like that.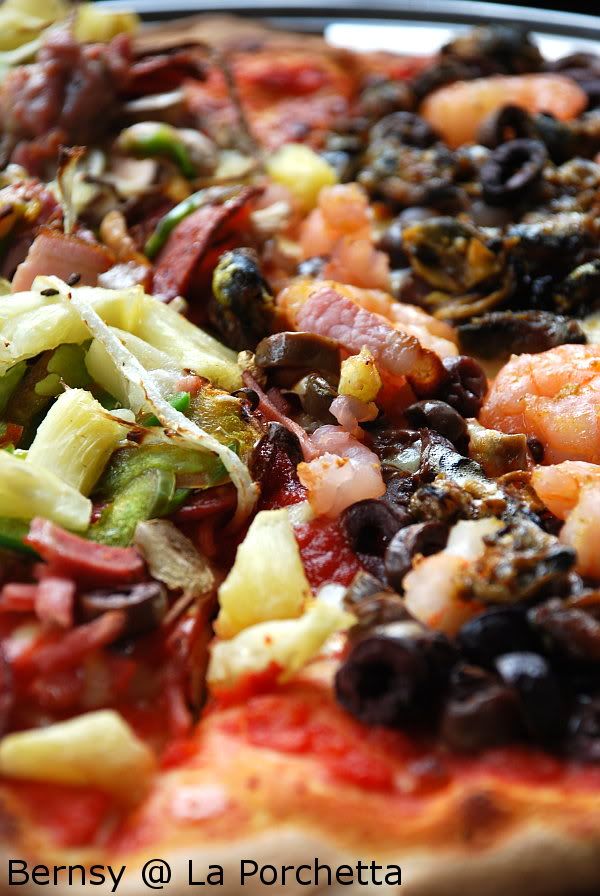 This pizza is just such a joy to photograph, because all the ingredients look so fresh, and plentiful. The shrimps were just so fat and juicy, olives were thrown onto pizza like it costs, nothing to make them. On the left side of the pizza you could see the pepperonis covering up most of the surface of the pizza, if not for the little bits of bacon sprawled across in the little spaces left by the pepperonies.

I think photos of their pizza came out much better here, comparing with their website pics.

Every bite into the pizza is returned by a sinful array of tastes, flavours and aromas. I was like ,ey , this is very good shit man... very good.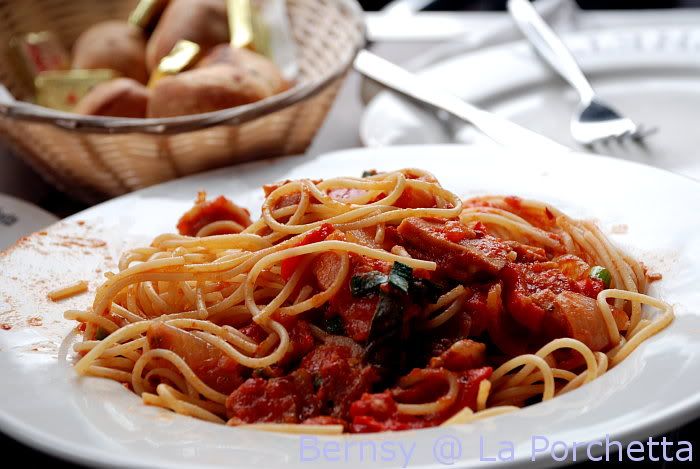 The pasta was quite alright la, standard pasta, with tomato base, basil and so on and so forth. Still tastes quite nice though, if you know what I mean, after, I only had restaurants like Pizza Uno, Pizza Hut and Pizza Venezia to compare with ma..... really no fight man our local pastas....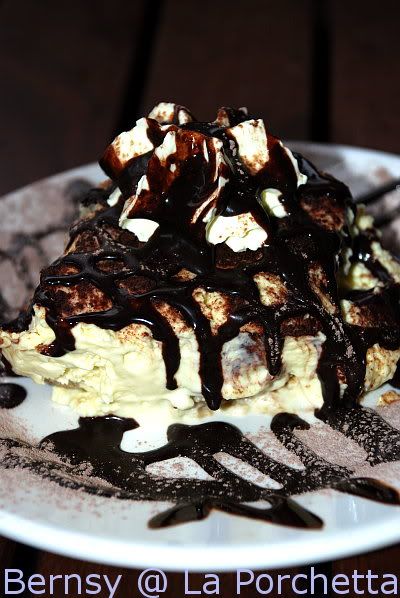 I am not sure what cake this is but it surely had lots of chocolate on it. Nice...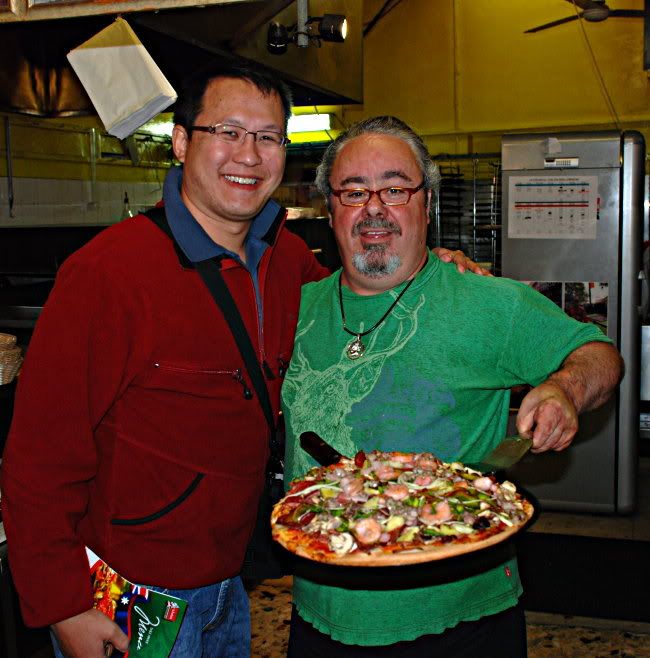 Oh well, I was lucky enough to meet the Legend himself, he's Rocky, the founder of La Porchetta. When we walked into the store, you could see him making em pizzas.... really, it was an honour to meat meet the man himself.... he was friendly and obliged with posing for a pic with me.....

Also read:

Used2be1
HungryHamster
FredrickTang
3point8 - thinks its the best restaurant he's been too...
minastra

His restaurant is probably just a few streets away from Victoria Market in Melbourne, but he's so famous, I am sure you can ask a few bystanders, and someone should be able to guide you there.