Since one of our fellow blogger Nipples Joe, decided to post a review on Korean food, I also thought, why not dig up, pictures of this Korean Kyung Joo Restaurant and post about it too. I keep loosing the receipt of this restaurant, we've visited this place for about three times already.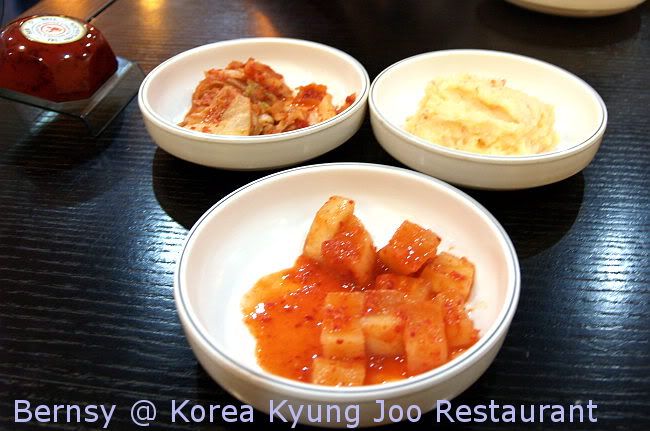 Its one of those restaurants that has a very odd or peculiar location. Its situated on the third floor, at MidValley Megamall. Some restaurants are actually located some sort of like a one floor up from the Third Floor space @ Mid Valley, some sort like CODO. To be exact, its right next to Carl's Jr, just take the stairs up.


Like most traditional Korean restaurant, they always give you some standard side dishes. In Korea, they normally just give us 3 types, two types of kim chi, and a local variant of taugeh. Over here, maybe because they charge us more, Korean restaurants will give us minimum 5, side dishes, and its very worth it, because those side dishes, can refill wan....

Although the side dishes do not consists of traditional side dishes, the standard ones, found in Korea, but it just customary for them to offer their patrons a few plates of stuff to munch on, much like dim sum.


One thinig I noticed about this place is that they offer a wide range of Korean BBQ and non BBQ dishes. The picture above shows the waitress cutting up slices of pork for a BBQ pork dish (not sure what its called).


Sayang ordered this Hot Pot Bee Bim Bab, some sort of a hot variation of the Bee Bim Bab, theirs does not contain beef, which is why I don't quite like it. This pot comes with chicken... not so nice jo, but its Sayang's favourite dish there now.


For me I usually prefer something hot and spicy. All these dishes have a Korean name to it, which I couldn't bother to try to remember or pronounce them. I call this a Spicy Prawn Noodle soup, its served with some Korean noodles, a few prawns, pork, and very very spicy soup. I recall sweating buckets after I finished the bowl.

Prices here are quite reasonable, the meal for two including side dishes, and drinks came up to about RM35, and of course it could come up to more, if you ordered So Ju (rice wine) and stuff. Love that shit, and as a wine, it doesn't smell much and its easy on the throat. After a bottle of SOjU you are most certain to pass a breathalyser test.


Korea Kyung Joo Restaurant
Tian Cheng Di Ji Restaurant SB
3rd Flr, MidValley Megamall.

Opposite Brewball, next to Carl's Jr.
For reservations call Woo Wai Ming (016 598 7897)
Also Read:

Food Cookies