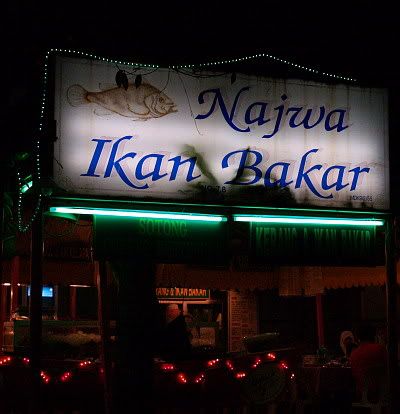 It was that night before we headed off to
Haipeng Kopitiam
, that we arrived at Cherating. Having been a real spoilt brat, a city boy, you often take things for granted. For example,
1) we do not need to book hotel wan, sure got room la.

2) be gung ho abit , nevermind wan, find hotel first baru cari makan

To cut the story short, we couldn't get a room at our prefered Hotel (fully booked during Monsoon season), and everything was closing down, including the Satar stall that my colleague brought me to. Ceh !!
So we dropped by at this Najwa Stall, which was along the main road of Cherating - Chukai.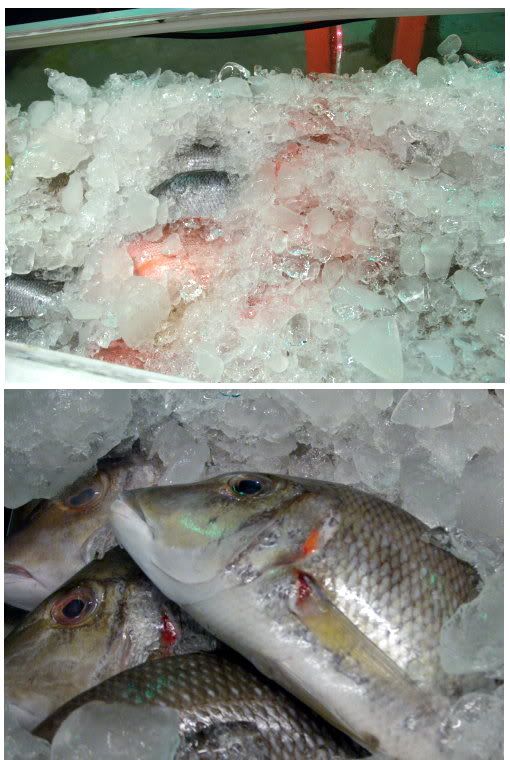 First item that caught my eye was a huge ice counter, one that looked like a fruit vendor's box in KL. The only difference was that this box contained lots of ice and fresh fish in it. So I ordered a medium sized Ikan Merah to be masaked, stim.
Then I headed off to the back of the restaurant where I could find a counter which had the usual traditional malay cooking in it. Hmm... I actually get to try some authentic Masakan Pantai Timur, but dunno why la, when you are in Cherating you will surely be tempted to try their Seefood. Have you ever seen any stalls in KL offering only fish on their first two levels ? I counted 11 types of fish in frame in that picture above. Behind all the baskets of Ulam, are more vegetable dishes, meat, chicken and one that caught my eye, was this crab.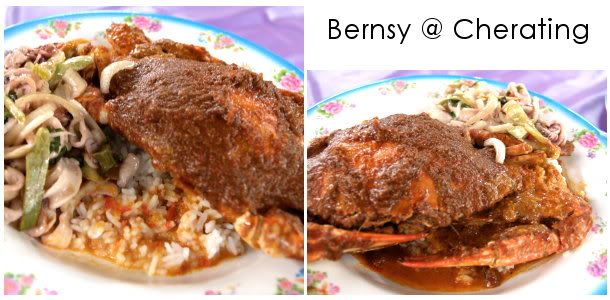 Crab cooked in chili paste. So I picked one crab up, some squid (kerabu style) and waited for our Ikan masak stim to come.
The taste of the food was not great, amateurish at best, and did not appeal to my senses whatsoever. However, the seefood was extremely fresh. The crab would have tasted much better if they'd just season it with salt and pepper and had it steamed. The squid did not feel like chewing gum. The fish was extremely fresh, and tasted as if it was just delivered from the fisherman's boat. But the way they cook it... aiyooo....It was ikan merah masak stim. Fish was good the cooking spoilt it.
Despite all the negatives, I'd come back to Cherating to hunt for more fresh seafood. I mean to say, they must be someone in Cherating who knows how to cook them right ? After all , the ingredients are fresh.
Okay the total bill came up to 43, my rice with squid and crab was Rm12, Fish was Rm25 (cheap), my colleague's rice was Rm5, and drinks the rest.
I am not even going to put up their contact details, just avoid this stall if you happen to stumble onto it. Drive another mile or two, you are bound to find some other stalls that could be open after 9pm. Most stalls are either dimly lit, no patrons, or closed. -Off SEASON ma....