What is a Chocolateria ? Never heard of this term before, but we might have stumbled upon a similar style cafe when we were discovering Darling Harbour. We saw a Lindt Cafe, which sells everything Lindt in it, from chocolate drinks, pies, cakes to chocolate bars.

I assume a Chocolateria is some kind of a new word which combines Chocolate and Cafeteria, to form a word Chocolateria ? That night after we finished our dinner at Bimbo's , we took a slow walk down the street to this place San Churros. What is a churro ?

When we walked in, you could see Sayang's face light up in excitement. You could almost hear her squeal in excitement like a child would (oh ok I imagined it) when she saw all those chocolaty items behind the glass case.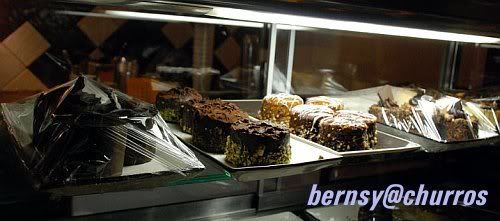 They have Cakes, Pies, Ice Creams, Drinks and Tapas all made of Chocolate.


One of those Chocolate Tapas served with White Chocolate Dipping...


Another tapas, served with Dark Chocolate Dipping .... everything is so chocolaty here !!



This picture above here is taken from the display casing which basically shows us what they have. Churros (the Spanish Yau Char Kwai , I call it) was what we went for. All of us ordered our Hot Chocolate Drink, and help ourselves with the generous amounts of churros we ordered. 8 bucks per serving that has 4 sticks of churros. We must have ordered like 2 of those.



We were given three cups (300ml each) of different types of dips for our churros. Of course we have the standard dark chocolate, White Chocolate and Milk dippings. All too sweet for my liking, but my cousin coolgray was totally indulging himself in all these chocolates. I can imagine him bathing in chocolate heaven or some kinda fantasy with chocolate in it.

My hot chocolate was so KAO(too thick), it became a bit Jelak before I could down half of it. Luckilly they served free ice water which helped tremendously in flushing down all those chocolates down my throat.

The churros were nice, but I doubt anyone who can finish a basket of churros by themselves. After 2 churros, the jelak-y feeling came again, and I told myself that's enough coklat for the night.

If you like Coklat, you must come to this place and try them Chocolateria's offerings. I should have tried their Chocolate Truffles though, @ 1.95 per pop, its a bit pricey, but should have tried it.


Chocolateria San Churro
227B Brunswick Street, Fitzroy
Phone 9419 9936
Mon-Fri 11am - 11pm
Sat-Sun 10am - 11pm

You must read these other reviews:

Sunny was there and took lots of pics
Of course GrabYourFOrk has been there too
I like penguins

Note: While visiting Queen Victoria Market in Melbourne, I did see one stall / or was it one bus also selling churos, but not sure if it is served with chocolate also... I suppose churros can also be ate with peanut butter, sugar, or whatever else you feel like dipping them into... (too bad no durian jam to dip those churros into... that will be super !!)