Where is a good place to take breakfast when you don't normally eat anything in the morning ? I was thinking of Amy Yip's Big Boobs Paos, so I drove down to Taman Connaught to try and get my hands on those boobs Paos. When I arrived at Seong Kee (didn't know this place was called Seong Kee, till now) I just got reminded why I have not been to this place very often. To get there in the first place, you need to maneuver your car through hap hazard parking, and hope your car do not get scratched on the way. Secondly, you will need to park your car far far away and walk in the hot sun to get to this restaurant.


Alas, the si tao poh told me, Amy Yip's Paos Habis Dijual... so had to settle for something else, since I walked so far to get here , doesn't make sense to walk away right ?.

Its a weekday morning, and I can't help but notice how brisk business was. After they clear one table, another group of customers come in...

I ordered the HKCCF (pic top) and found it to be so so. Shrimps were quite small. Their chili was not bad though, but they charge you cheap cheap for it, no complains. Good value for money.


Then of course, you will have these aunties walking around carrying dim sums, on a 3 ft wide trays. They must be quite strong, but pity them, their trays were so heavy... so I took Har Kau and one tray of Siew Mai from them. I found their Siew Mai to be quite tasty... and their Har Kau to be above average.



All in all, I must say they do make pretty good Teh-C. Very nice. Overall I paid less than 10 bucks for my breakfast, and for dim sum pricing , I think its quite cheap. 2 trays of dim sum, one plate of HK CCF , and a glass of Teh C, I think about 9 bucks. Where to find ?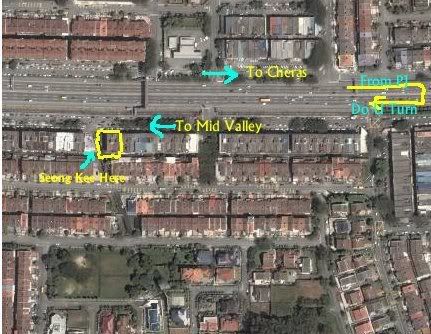 Other Reviews:

Joe's Cravings - can get address from there.
Peggy Chow