This was the same day we spent the entire day around Sydney Harbour. We bought an all day pass to a ferry to get us from Darling Harbour to The Rocks , and from the Rocks to some small little Island Fort (forgot its name, definitely not worth stopping), then to Sydney's Zoo (unfortunately did not spend time there, heards its a very good zoo, so I guess we will just have to content ourselves with just Zoo Negara or move down south for Singapore's zoo). From Sydney Zoo ( I think its called Taronga Zoo) the Ferry's goes off to Watson's Bay.




If you remembered my post on Sydney Fish Market, it was the same day we had our second visit there. We had our brunch there so to speak. So by the time we had a walk around Darling Harbour, caught our first ferry to The Rocks to visit the much talked about Sydney Opera House, our next stop was Watson's Bay. We were already hungry, and since we didn't get enough seafood, we had some more, this time at Doyle's.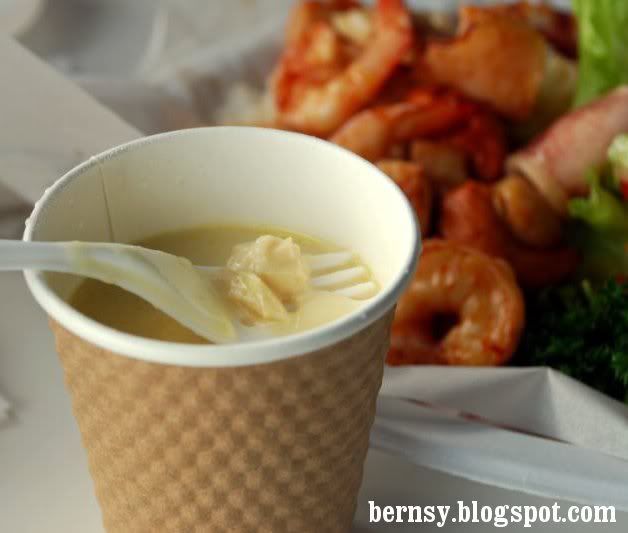 We ordered a little bit less stuff for our late lunch, more like tea time. By the time we arrived at Watson's Bay we were famished to say the least. Actually at Watson's bay you can either have Doyle's Takeaway, or the other Seafood joint (forgot its name).

This time around we ordered a Cup of Seafood Chowder , 6.90. Sayang complained that it wasn't as nice as the one she had in San Fran, because this wan got no isi inside, all soup only. I liked how it tasted, and thought it was alright. But really , they isn't any stuff inside the soup.




We ordered a seafood platter , where they put in prawns ( more like shrimps , a lot smaller than those offered at the Sydney Fish Market), squip, fish fillet, Scallops, and served with rice and salad on the side. It cost us 13 bucks i think.


One thing about Australia I don't like is that, we have to pay for soya sauce, tomato sauce, mayo, or extra sauces which the outlet may serve. They usually charge about 0.50 each. So not used to paying for those sauces. And most of the time, their drinks cost a bomb. A cup of cappuccino will set you back 3.50 to 4.50 depending on where you dine. A bottle of 500ml softdrink will go for about 3.50, while a bottle of mineral water will also set you back 3.00. But then, most cafes, serve water, thats quite cool I thought.



The atmosphere is just great. I mean you are at most a 15 minute ferry ride from Darling Harbour, and yet the water here is clear. We are in the middle of a city, you can see these jetties being frequented by boats and ferrys shuttling passengers through and fro the city and yet, there was not a hint of oil slick here. Try comparing their water with Port Dickson's.

Anyway, it wasn't until we boarded the last ferry back to Darling Harbour, I looked back at Watson's Bay realized how beautiful these houses by the hillside were. Snapped this pic, and wish I had one of those I can call home... beautiful isn't it ?

Note: All pics here taken with a Nikon D80....