One of them places, my cousin brought us to , was this restaurant in Richmond. Unfortunately for me, I have forgotten what this place is called, and in Richmond, you have many Pho houses on that particular street. We also walked into a few Vietnamese provision shops to look at the abundance of food stuff we can buy for cooking Asian Food.



So, when we walked in, the restaurant was already quite full. Mind you it was about 12pm, not exactly lunch time, at least not for us. We were just doing brunch. The reason why I did not remember much of it was because I did not do the ordering nor did I pay much attention to its menu.


My cousin ordered this mini fried popiah, which was quite tasty. To eat this fried spring roll, we were given a bowl of sweet chilli sauce , which tasted like less starchy Thai Chilli Sauce.


As an additional side dish for our noodles, we were given this plate of beansprouts, and mint leaves (really reminds me of ULAM). We were to squeeze a bit of lemon onto the salad, and mix well.


I remember eating their beef Kuay Tiau soup , while Sayang had the chicken and pork one. I liked the stuff they serve here, price wise, pretty cheap when compared with the rest of the stuff available for lunch. One bowl of these noodles costs about 8 bucks each. Unlike in KL , the 8 bucks comes with a huge bowl of noodles, lots of meat, lots of vegetables. Go to Pho House @ the Curve, I believe they give you about 1.5times the serving.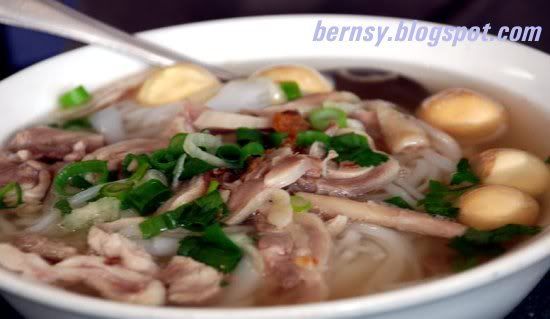 This must be how much food in their kopitiam costs. Vietnamese Coffee was good, because we finally managed to get some Kopi C. Had been drinking too much cheap brewed coffee, which I didn't like very much. Most cafes were just serving, expensive coffee which didn't taste very good. I really forgot which one this restaurant is, but if not mistaken this is one of the more popular ones.