It has taken a while but I have finally come to blogging about the last city we visited in Australia before we came back. We were to meet up with some of Sayang's really good friends when in Melbourne. I am really excited about writing about this place, because, it we had a great time, catching up with old friends, we had beer, the place was some sort of a hang out kinda place.

When we arrived, that night , it was already 7 plus. We walked into a dimly lit and congested pub, with loud music playing and lots of people just mingling and such, the kind of scene you expect to see when you walk into BarFlam in Bangsar on a weekend. The only difference is that, it was Wednesday night... hahaha, happening place...


Bimbos is famous for serving cheap pizzas on Sundays - Thursdays, 7pm - 11pm. All their pizzas go for 4bucks each. Its 4 bucks for a 12 inch pizza with different gourmet toppings, and beers on tap go for only 3.50 per mug. Everything cheap, no wonder so many people hang out here.

So we actually had to wait and hunt for a place to sit. It was seriously full, and we actually waited 15 minutes before we got ourselves a table, but the best thing was we had to go hunt for chairs. By the time we sat down I finished my first Carlton Draught (recommended by one of those guys at the bar...)

I think Sayang was buying dinner, so she actually did the ordering. I had initially wanted to help give ideas as to what to order , but after seeing those pizza names, I gave up. Take a look at the menu yourself..


This pizza's presentation need to be worked on , otherwise I remember them to taste quite good when I put them in my mouth. Don't remember what it's called though.

I liked this one (seafoodish pizza)...

I liked this too... looks like peperroni pizza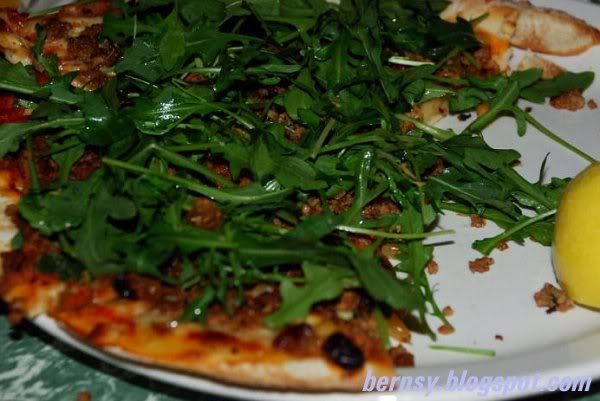 The pizzas above came out within 20 minutes of the order taken, which I found impressive. Although some of those pizzas did come out abit different in shape (see first pizza), the taste was not that bad actually. When I heard it was only 4 bucks each, I really thought they might give you less ingredients.. but no wo... everything came out to be quite standard. The last pizza was the lamb pizza, topped with a lot of strange herb (green leaves, donno what it is, I liked the lamb but not the leaves..hehe)..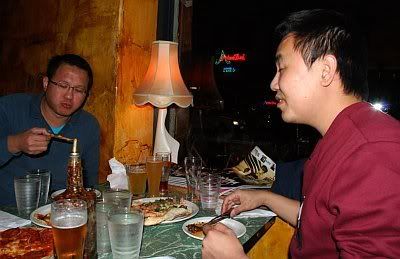 This pic above, depicts me glutting on those pizzas. There is something special about this pizza place. In most pizza places in Australia, they give you chili flakes at most, over here they give you chilli oil (chinese style, or more like dim sum style). You see that bottle behind the beer.. thats the chili oil. Also from this picture you can see a Hoegaarden and a Asahi Dry next to me. Those were both mine. You can also see lots of free plain water served in this restaurant (maybe pizza uno can pick up on this, instead of charging rm3 for a bottle of el cheapo mineral water ). That night I must have also tried some Stella Artois beer. I had quite a few beers that night... the beers all tasted so so only la...

To be very frank, this place does not exactly serve you the tastiest pizzas, but when they charge you only 4 bucks per pizza, what more can you ask for. No frills pizza place.. hehe.. Just to compare between our Dominoes in KL with Bimbos, I believe Bimbo's pizzas win hands down (just for comparison sake la).

T outlet is filled to the brim, the service was quite there (mostly self service, like at a pub unless you ordered food). It look like a good place to get beer and have some pizza after work, and chill out with friends. Had a good time, thanks to the company.

The Map:


376 Brunswick St

,

Fitzroy

,

VIC

3065

,

Australia