I remember the last time I was in Batu Pahat, about the same time last year, I spent 45 minutes looking for Beriani Gam Power JB, and when I got there it was closed. Not open for dinner konon. Luckilly for me, one of the Profs from UKM actually told me where to find Beriani Gam in Bangi.

It did not take me long to figure where it is, because she told it is situated somewhere behind the Petronas Station next to NIOSH building in Bangi.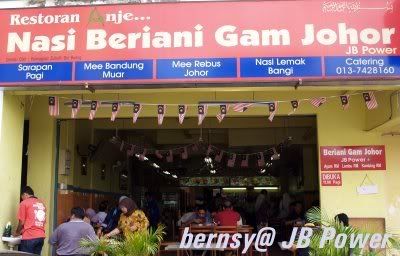 It did not take me long to find parking, although you might have to walk 5 minutes to the restaurant. When I walked in, I saw a packed restaurant, and on top of that, the queue was about 15 people ahead of me. I am quite alright with that, because I can take my time to look at the menu, and decide what I want to eat.

They have, Ayam Goreng Kampung, Ayam Masak Merah, Kambing, Daging Rendang, Daging and so forth. I asked for Nasi Beriani Daging.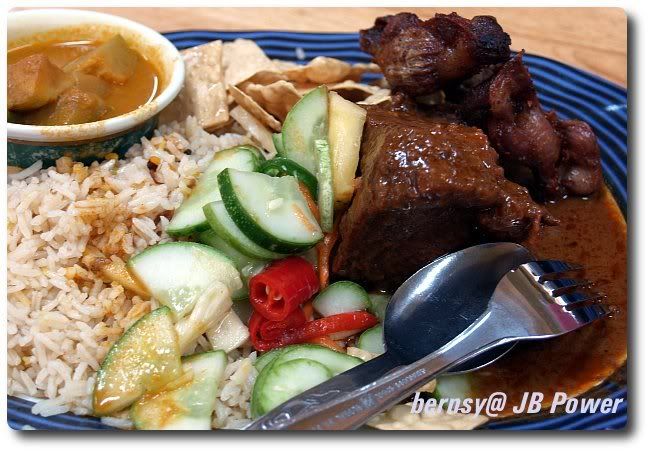 The gravy was very tasty, with a handful of papadam, acar timun, and a bowl of dalcar (RM 5 - 6). Their serving size can vary, and but I normally ask them to reduce the amount of rice they give me. Separuh !! Thats what you hear me say all the time. Hahaha...

I like the way their rice is cooked. It doesn't stick to each other, which means their Beriyani was done correctly, not too dry, and just moist. Taste wise, I must say, its very nice. The gravy that came with the beef was quite nice, and didn't find it too salty. The dalcar however is not something I like. Just my preference, so I normally do not touch the dalcar at all.

To sumise, I prefer this place to the one @ Nasi Beriani Putrajaya which I find abit too expensive. I read about House of Briyani which is near Warta from nochickenwing's blog, so I will try to drop by one of these days to see if they are open yet.

My bill came to less than Rm10 for lunch that day. Really good value for money, and I can't say you will complain about how the food tastes, unless you just totally hate it. My sayang will never say the beriani gam is great, at most you just get an ok la from her. She prefer's her authentic real Briyanis.

Also read:
No Chicken Wing


Location:


Restoran Anje
Nasi Beriani Gam Johor JB POWER

15, Jalan SS 15/1C
43560 Bandar Baru Bangi


Directions:
Exit North South highway at the Bangi Toll
1. Take 12 when you meet the first round about ( rectangular and huge)
2. Drive until you reach a second round about (rectangular and huge also) and take a 6, something like a u - turn.
3. Drive past the NIOSH center and immediately take a left turn at the junction after the Petronas Station.
4. Turn right at the first junction. Restoran Anje should be on your left, next to the Tayar shop.
If you still got problem call 013 7428160.