Secret Recipe serves great Tom Yam Gung. This was recommended by Sayang, who is an ardent fan of their Tom Yam Gung. We've had this plenty of times already at various Secret Recipe outlets. The one we frequent the most is the one at DU, Uptown & Cheras Leisure Mall(CLM). Did you know that in Leisure Mall, they actually are 2 Secret Recipes ? One on each wing.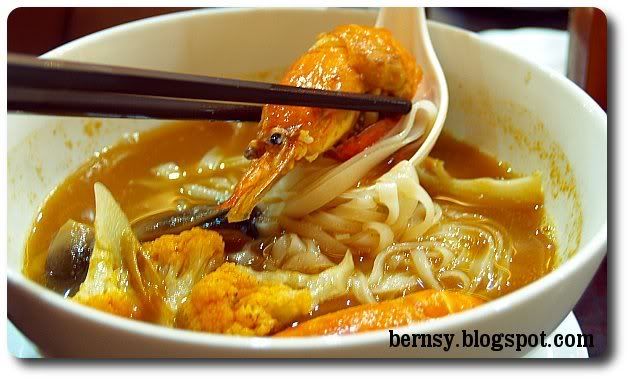 The soup for Secret Recipes Tom Yam Gung is very potent. Definitely not the type of soup for people who can't eat spicy/hot. Everytime I eat this, I am sure to sweat like crazy. And everytime I sweat like that I will complain to the staff that their air conditioning is not working, then they sure gelabar wan.

Their prawns are usually big, succulent, and most of all fresh. However, when we had this bowl of Tom Yum Gung, I thought the prawns were slightly smaller than the ones we've had in CLM and the one in DU. I thought they were suppose to be the same. Irregardless of what size those prawns are, Sayang is sure to finish the whole bowl. Its means a lot because she would just normally take half the noodles if she eats elsewhere. Ya its that good. We ordered the set which comes with one Ice Lemon Tea or Softdrink and a Brownie of the Day.


As for me, I wanted to try something else. Tom Yum Spaghetti. Its actually not that good, to be honest. Its not even half as good as their Tom Yum Gung. I won't ever order this dish again. Tom yum just not kao enough.


Here goes, Brownie of the Day, now comes with a choice. We could choose between a Carrot slice ( why does Secret Recipe think that thats a brownie ?) or a Choclate Walnut Brownie. Of course we'd choose this one. It comes with the chocolate oozing down the plate, and since its warm, the chocolate in the cake is actually liquified, so more Chocolate invades your mouth after you bite into it. Yummy !!

The meal was less than 50 bucks for two sets. Usually I won't complain but the prawns were a bit smaller than what we had in other branches. My spaghetti Tom Yum was a dissappointment also. I have tried their Irish Lamb Stew, which was supposedly Award winning too. It's quite good, but Sayang said the one in Finnegan's is not bad either.

Most people totally love this Tom Yum Gung. Said got kick la, got oomph la....

This noodle definitely get my recommendation , and the guys below also agrees....

CWLOR
ERIPENG
Kurak Kurak
Fbaggins
Sweet Diary
Dwayne Foong