A client recommended that we meet at Timor Place in Dagang Avenue. I had no idea what this was, but when I first walked into the cafe, the decor did not disappoint. The interior gives you the feeling you are walking into a modern Malay cafe style eatery. The tables are all covered with nice table cloths and the staff attentive.

According to my friend, this is according to him, an artiste's meeting place. I think he meant hang out. So he mentioned a few Malay celebrities, and since I know none of them, I won't recognize any, even if they stood infront of me.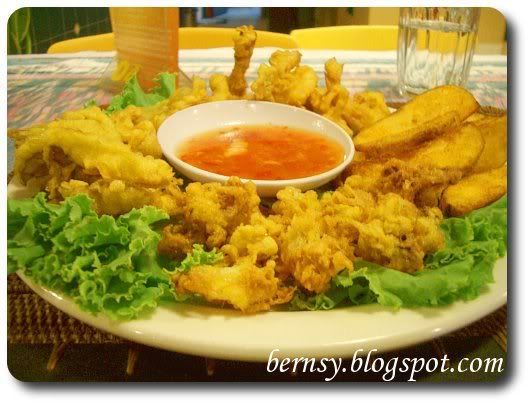 My friends met there, having eaten Steak somewhere else. So they were to first to order. They had a dish called "Kunyahs"(14 bucks). I spelt it as it appeared on the menu. Its a plate of fried mushrooms, potato wedges, fried squids and fried something... Then they also give you the kuah cili manis, very nice (authentically done like keropok lekor type of kuah).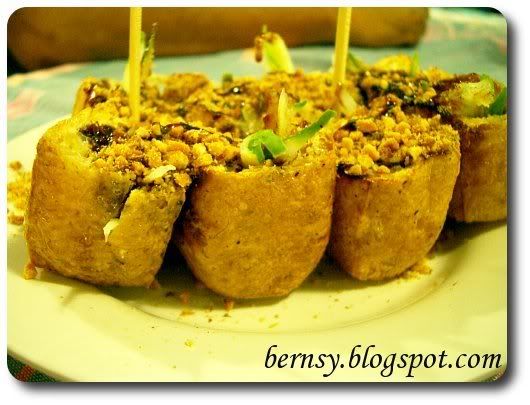 They also asked for 2 servings of Tauhu Bakar. Unfortunately for me, I forgot to change the WB settings on the camera, so the pics here turn out a bit yellowish. They seem to have enjoyed every single thing we ordered.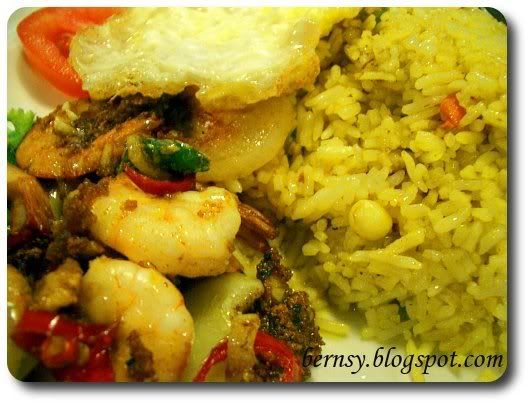 I ordered the Nasi Goreng Timor or Udang (about 6bucks), which was recommended by the boss there. If you remember Nasi Goreng USA, this is similar. They serve you fried rice , topped with a fried egg, accompanied by Udang Timor. It was a great single serving dish to have, I was impressed by all three dishes we ordered that night.

Price wise, this place a bit high la for a Malay restaurant but still it costs less than what you would pay for a bowl of noodles at Secret Recipe.. but slightly higher than Kopitiam pricing. This eatery doesn't give you the stuffy and hot feeling like some restaurants. Although no air conditioning, this place was kept rather cool that night (definitely a plus point for a Malay eatery).



For Reservations Contact:

Jeofry Bin Yosoff

G-2, Jalan Dagang B/3A
Dagang Avenue, Taman Dagang
68000 Ampang
Tel 4270 5555


ps forgot to adjust WB on the PNS camera. So all photos came out yellowish